The Information and Communications Technology Service (ICTS) has identified alternative learning delivery platforms using online technologies that can be used by teachers to deliver distance learning classes while classes are suspended.
The said platforms will allow teachers to create online classes, assign activities, and conduct assessment tests for learners who have access to the internet.
All teachers are enjoined to make use of these tools to continue delivering lessons even though classes are suspended.
The User Guide for the said Online Alternative Learning Delivery Platforms can be accessed through the Workplace Open Group "Alternative Learning Platforms" at https://my.workplace.com/groups/AlternativeLearningPlatforms/.
For immediate and widest dissemination.
ALAIN DEL B. PASCUA
Undersecretary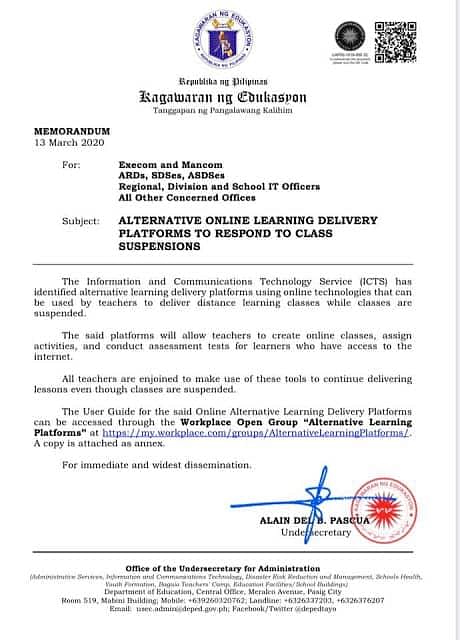 SIGN UP TO DEPED TAMBAYAN NEWSLETTER
Join our Facebook Community and meet with fellow educators. Share and download teaching materials. Get important updates and read inspiring stories.
RECOMMENDED