Here is the latest update on the release and payment of Cash Allowance for Teachers of the Fiscal Year (FY) 2020.
"Kasalukuyang pinoproseso na ang Cash Allowance para sa ating mga Public School Teachers para sa paghahanda sa pagbubukas ng SY 2020-2021." Usec Alain Pascua wrote on his Facebook Page.
Pascua said that the memo was from the office of Undersecretary for Finance Annalyn M. Sevilla dated May 04, 2020.
---
MEMORANDUM
OUF-2020-0167
Advisory on the release and payment of the Fiscal Year (FY) 2020 Cash Allowance to Teachers
Please be advised of the following directives on the payment of the Cash allowance to Teachers amounting to Three Thousand Five Hundred Pesos (P3,500) per classroom teacher for the purchase of teaching supplies and materials for the School Year 2020-2021:
1. The P3,500 cash allowance shall be released to teachers in June 2020;
2. The Department of education (DepED) Regional Offices (ROs) must ensure that the allotment shall be released to Schools Division Offices (SDOs) on or before May 15, 2020;
3. It is expected that DepED ROs and SDOs shall have the cash allocation ready for the payment of the cash allowance and that such is included in the 2nd Quarter Notice of Cash Allocation and Monthly Disbursement Plan by coordination with its respective Department of Budget and Management Ros; and
4. The DepED Central Office shall also release separate policy guidelines on the grant of the Cash allowance to Teachers to include teaching supplies and materials related to the preparations to the shift to the learning Continuity Plan, as among the allowable uses of the cash allowance for teachers.
Please be guided accordingly.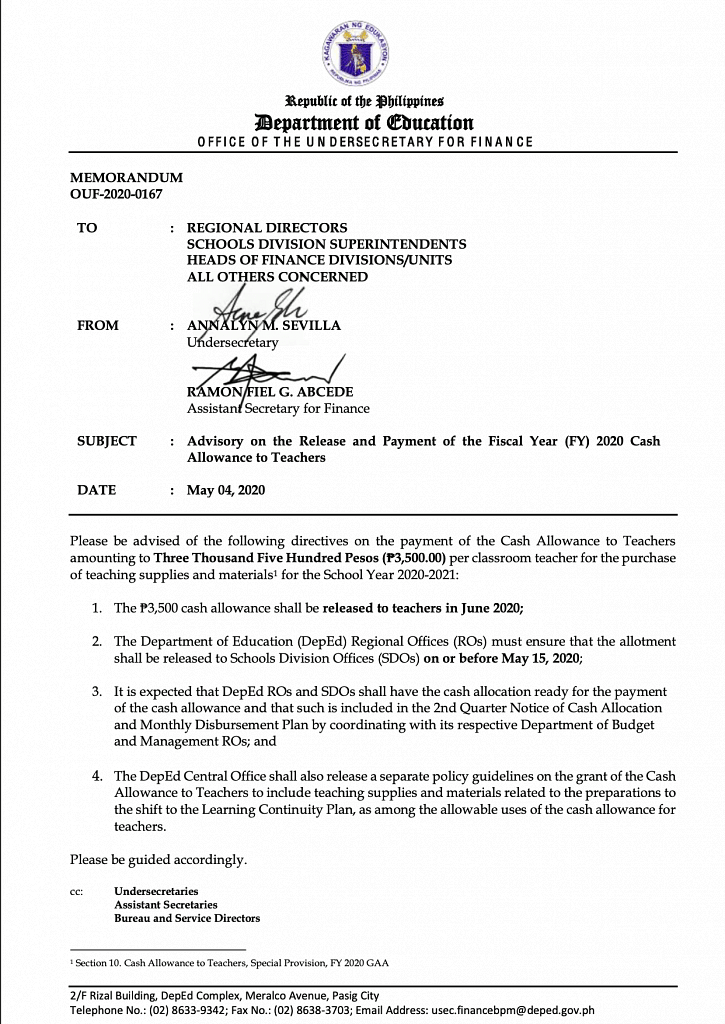 SIGN UP TO DEPED TAMBAYAN NEWSLETTER
Join our Facebook Community and meet with fellow educators. Share and download teaching materials. Get important updates and read inspiring stories.
RECOMMENDED