With the disrupting effect of COVID-19 in our society many have changed including how we live and how we work. And as far as workplace is concerned the education sector is also affected, though formal classes and offices are temporarily closed, some of its skeletal functions must continue.
Telecommuting or working from home was observed over the last few weeks among the heads and other personnel of DepEd in observance of social Distancing. And one important factor of this setup is the use of teleconferencing apps like Zoom and Microsoft Teams.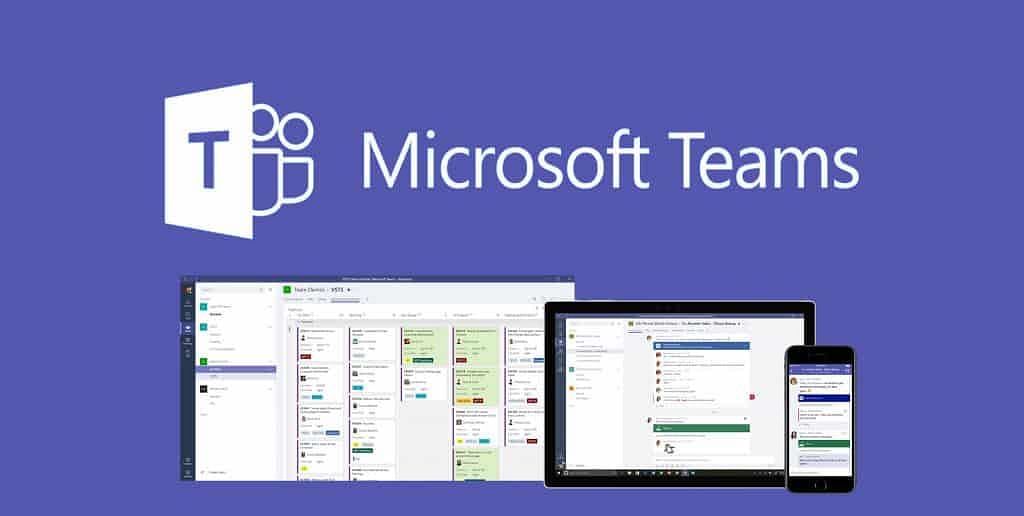 You might ask why not just use messenger or similar apps. Well, I thought of these two reasons – security and scalability. Messenger is not known for great security and though other apps like WhatsApp and Viber have this, its video call is limited only to 4-5 people. Not mentioning its other limitations, they might be great for chats and for small video calls but not for great size.
In the early weeks of quarantine, many people are using Zoom including schools, but it has changed when Zoom was charged with a major security breach exposing 500 million accounts. Many companies including schools have banned its use.
Now, DepEd seems bothered with the recent security issues with Zoom, a well known California based video communication company, that they are ditching the platform in favor of three major players namely Microsoft Teams, Workplace by Facebook and Google Meet. The three are widely used in small to large companies.
"We recommend these platforms to be used for video conferencing to ensure that information is secured and strictly confidential," Usec. Alain Pascua wrote on his Facebook post last Saturday, April 18, 2020.
As of the moment of this writing, Zoom claimed that they have already fixed all security issues and rolling out major security updates on their apps. But, damage has already been made, and people starts to use other apps but hoping it will not turn out to be another Skype.
Enough of my zoom lecture and let's go to the main course by reading this memo.
MEMORANDUM
April 17, 2020
RECOMMENDING THE USE OF MICROSOFT TEAMS, WORKPLACE BY FACEBOOK, AND GOOGLE MEET IN VIDEO CONFERENCING
The Office of the Undersecretary for Administration (OUA) through the Information and Communications Technology Services (ICTS) strongly recommends all concerned personnel to use the following platforms for video conferencing requirements:
Microsoft Teams
Workplace by Facebook
Google Meet
The Department of Education (DepEd) has existing arrangements with said organization and platforms which ensures that information in video conferences is secured and strictly confidential.
ALAIN DEL B. PASCUA
Undersecretary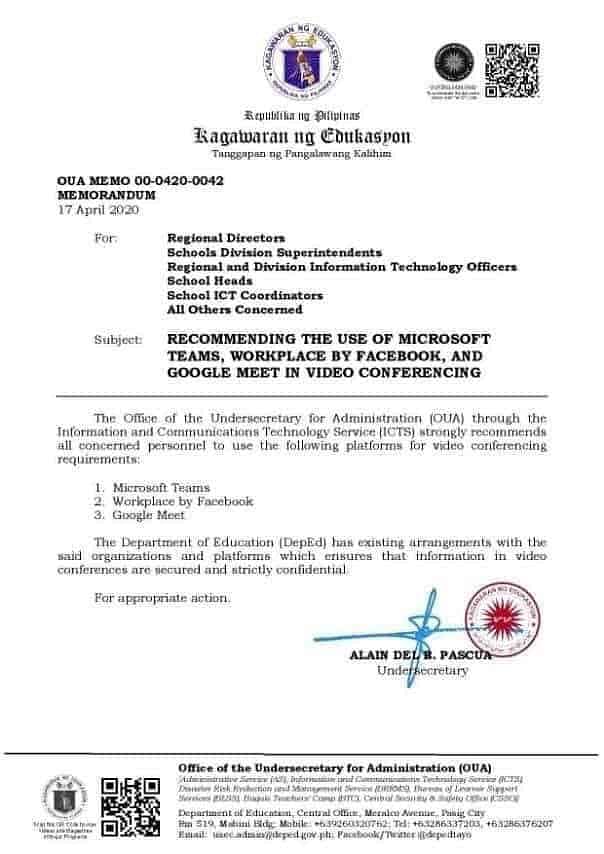 SIGN UP TO DEPED TAMBAYAN NEWSLETTER
Join our Facebook Community and meet with fellow educators. Share and download teaching materials. Get important updates and read inspiring stories.
RECOMMENDED