Are you interested to learn basic Filipino sign language? You can now do it online for free!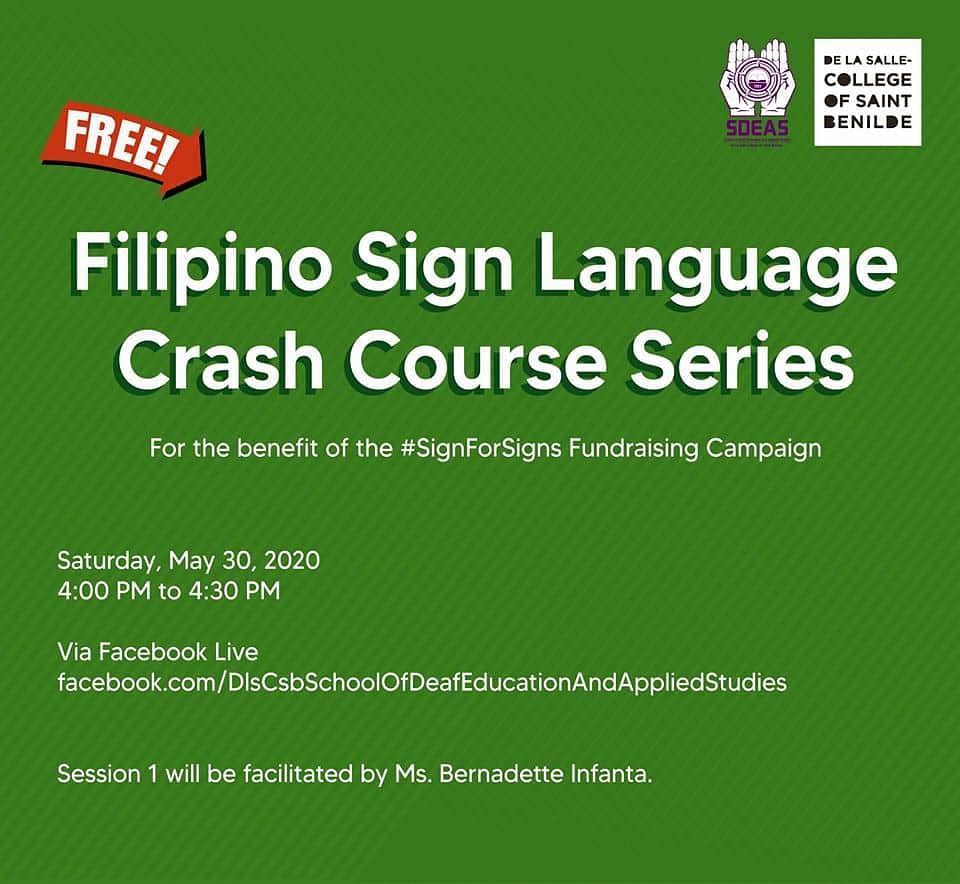 The De La Salle-College of Saint Benilde announced over the weekend that it would hold a series of online lessons on basic Filipino sign language (FSL).
The Filipino sign language lessons will be taught by the DLS-CSB School of Deaf Education and Applied Studies via Facebook live starting on Saturday, May 30 at 4 pm.
"Benilde School of Deaf Education and Applied Studies will hold a series of basic Filipino Sign Language (FSL) online lessons, starting on May 30, 2020, at 4 p.m.," it said in a Facebook post.
The Filipino sign language lessons are free but Benilde said it accepts donations for its #SignForSigns Fundraising Campaign.
The fundraising campaign aims to raise funds for deaf students living allowances who are stranded in their dormitories due to the pandemic.
It also aims to help Filipino Sign Language Learning Program faculty who are on 'no work no pay' scheme, and for Filipino Sign Language workers who render their services as media interpreters in daily news in major broadcast networks during this time of pandemic.
Benilde said proceeds would also fund indigent Deaf scholars who need to return to their respective provinces after the modified enhanced community quarantine in Metro Manila and other parts of the country is lifted.
"A minimum contribution of P350 will give you access to an FSL Learning Kit, which you can use to continue learning sign language at home," Benilde said.
You can click here to donate.
SIGN UP TO DEPED TAMBAYAN NEWSLETTER
Join our Facebook Community and meet with fellow educators. Share and download teaching materials. Get important updates and read inspiring stories.
RECOMMENDED