Microsoft Windows is a well known operating system used by billions of computers worldwide. Windows 11 is the latest version of it. The latest version offers a better design compared to its predecessors, like Windows 10 and Windows 8. When you buy a new laptop, it comes usually with a pre-installed Windows 11, but buying Windows 11 installer with license alone isn't usually cheap. Good thing is our learners can get it now for free.
The Office of the Undersecretary for Administration (OUA) through the Information and Communications Technology Service (ICTS) officially announces the free download of Windows 11 for learners.
To download Microsoft Windows 11, learners must use their DepEd Microsoft accounts. Learners who don't have DepEd Microsoft accounts should coordinate with their school ICT coordinator. The free Windows 11 will be available to teachers soon.
The materials are available to download at https://bit.ly/3G9Jq9I (https://depedph-my.sharepoint.com/:f:/g/personal/trainer_kcatahan_deped_gov_ph/EjUjQLTMd8RIssJiIIZ3L2cBHPD6ab9E8PJ_TzHxzRB09A?e=h7HMq8) and video tutorial is available at https://aka.ms/DepEdDownloadWin11.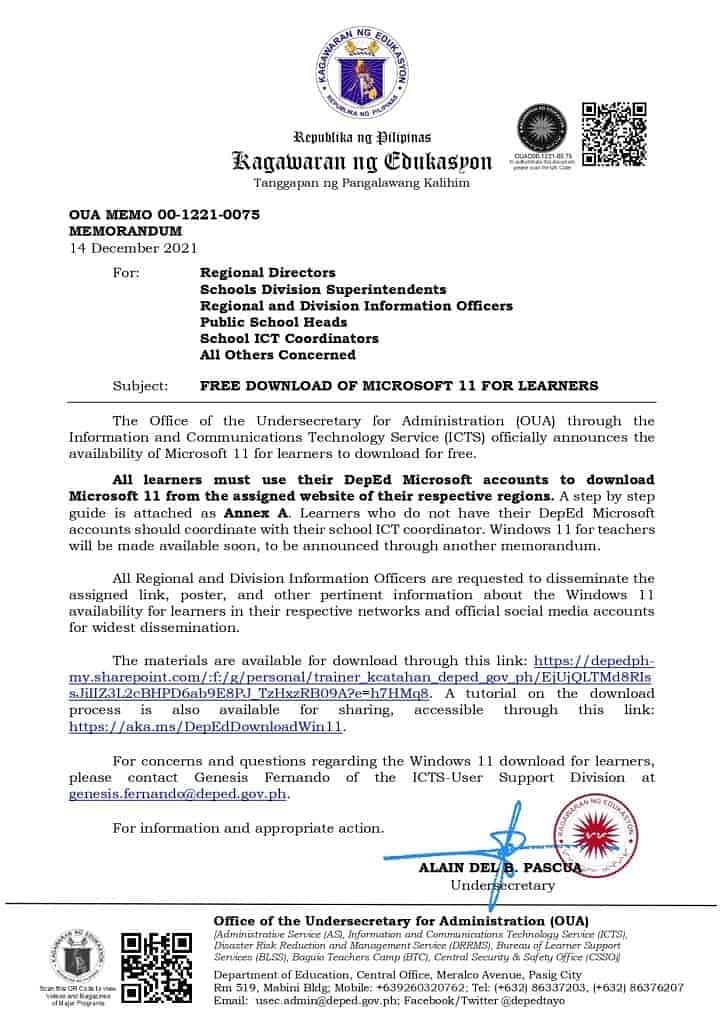 For concerns and questions regarding the Windows 11 download, learners can contact Genesis Fernando of the ICTS-User Support Division at [email protected].
SIGN UP TO DEPED TAMBAYAN NEWSLETTER
Join our Facebook Community and meet with fellow educators. Share and download teaching materials. Get important updates and read inspiring stories.
RECOMMENDED