The Department of Education (DepEd) proposed last Tuesday the use of Sablay instead of toga for End-of-School-Year Rites 2020 in Elementary and Secondary schools.
Read also: Reforms are for our learners, not int'l rankings – DepEd
The proposal was signed by Usec. Alain Del B. Pascua as contained in Aide Memoire dated February 18, 2020.
A quick search on google for the word, "Sablay" refers to an indigenous loose garment that, simple yet elegant, is used traditionally used for formal occasions. As a verb (isablay), it also means to put a precious object like a piece of cloth or garment upon one's shoulder, as a way of giving value and respect to this selfsame object.
Read below what was contained in the AIDE Memoire.
The use of Toga has its deep Western roots and has been taken for granted all these years despite its advantages:
It is not Filipino
It does not inspire loyalty to our Nation but it serves as a reminder of a colonial past.
It is impractical and uncomfortable
It promotes uniformity and it does not encourage flourish of cultural diversity.
Renting of Toga is an additional Expense.
It is proposed that Sablay, instead of Toga:
Instill patriotism and nationalism among young learners;
Promote core values of Makabansa and Makakalikasan;
promotes local culture;
nurture ethnic roots and perpetuate the production of local textiles of indigenous people;
boost rural development;
provide jobs and empower women and men weavers;
revive and sustain local and traditional weaving enterprises
Here's the AIDE Memoire for you to check or download.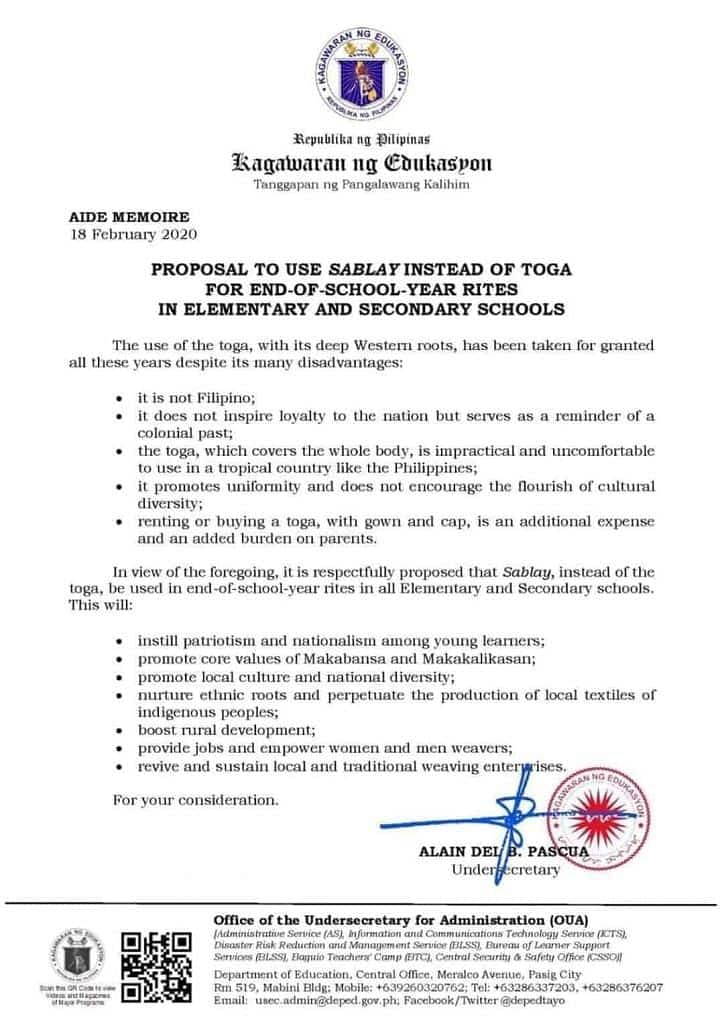 SIGN UP TO DEPED TAMBAYAN NEWSLETTER
Join our Facebook Community and meet with fellow educators. Share and download teaching materials. Get important updates and read inspiring stories.
RECOMMENDED