DepEd Memorandum No. 133 s. 2019
October 14, 2019
REITERATION OF THE COMPLIANCE OF SENIOR HIGH SCHOOL-TECHNICAL VOCATIONAL LIVELIHOOD TRACK IMPLEMENTERS TO TESDA TRAINING REGULATIONS
To: Undersecretaries
Assistant Secretaries
Bureau Directors
Regional Directors
Schools Division Superintendents
Public and Private Elementary and Secondary School Heads
All Others Concerned
To fully meet the goals of the K to 12 Basic Education Program as stated in the implementing Rules and Regulations (IRR) of Republic Act N. 10533 also known as the Enhanced Basic Education Act of 2013, the Department of Education (DepEd) reiterates its commitment to ensure that senior High School-Technical Vocational Livelihood (SHS-TVL) track implements are fully equipped with the minimum standard tools, equipment, and facilities necessary for effective learning delivery.

All SHS-TVL implements should adhere to the Training Standards found in Section 3 of the Training Regulations of the Technical Education and Skills Development Authority (TESDA). The Departments and TESDA have signed the Memorandum of Understanding to Establish a more institutionalized platform for coordination to enable a more responsive provision of TVL education and to ensure that the TVL graduates meet the industry need.

The SHS-TVL implements are also encouraged to apply for accreditations as TVL Training Center and/or Assessment and Skills Certification Centers, subject to the Unified TVET (Technical and Vocational Education and Training) Program Accreditation Systems (UTPRAS) guidelines of TESDA.

For more information, please contact the Bureau of Learning Delivery, Department of Education Central Office, Bonifacio Building, DepEd Complex, Meralco Avenue, Pasig City through email at

[email protected]

or at telephone no. (02) 638-4799.

Immediate dissemination of this Memorandum is desired.
Signed,
LEONOR MAGTOLIS BRIONES
Secretary
References:
DepEd Order (Nos.: 73, s. 2009 and 43, s. 2013)

To be indicated in the Perpetual Index
Under the following subjects:
EQUIPMENT
LEARNERS
SCHOOLS
SENIOR HIGH SCHOOL
TECHNICAL EDUCATION
VOCATIONAL EDUCATION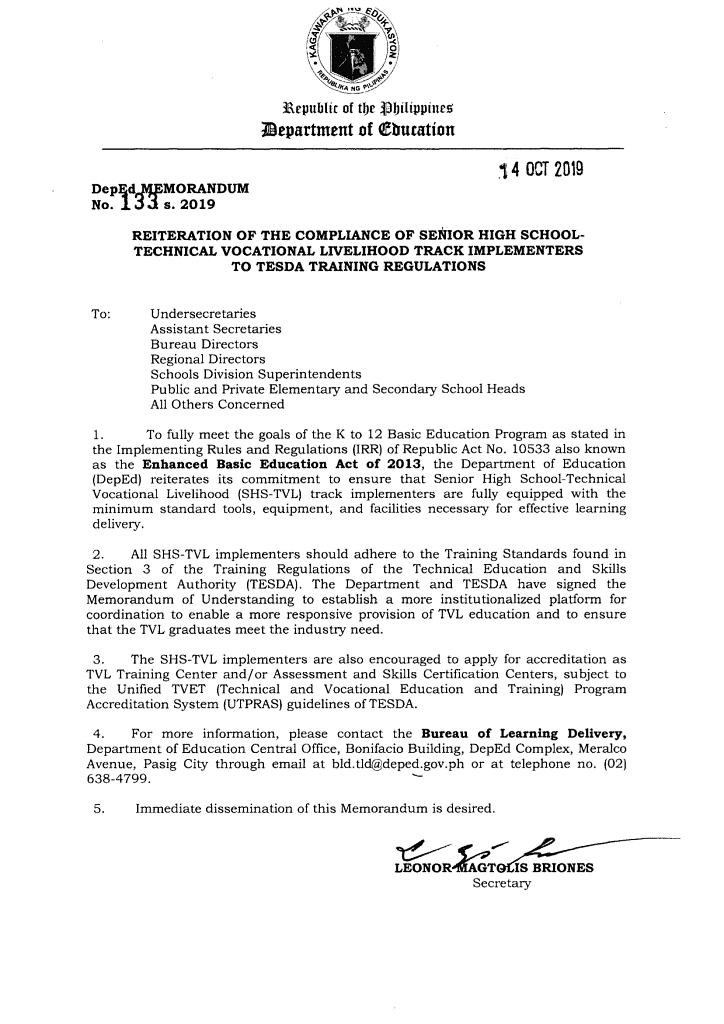 SIGN UP TO DEPED TAMBAYAN NEWSLETTER
Join our Facebook Community and meet with fellow educators. Share and download teaching materials. Get important updates and read inspiring stories.
RECOMMENDED