MEMORANDUM
DM-OUCI-2021-094
TO: Regional Directors
FROM: DIOSDADO M. SAN ANTONIO
Undersecretary for Curriculum and Instruction
SUBJECT: Support Extended to DepEd Teaches
Date: 29 March 2021
This Office, in order to support the current efforts of the Department of Education (DepEd) by providing the necessary technical assistance to the field, has officially launched DepEd Teaches last 14 December 2020. We are grateful for the dedication of the Regional Directors, Assistant Regional Directors, and Superintendents who shared their expertise so that teachers and field officials are equipped with the competencies they would need to thrive in the new normal of basic education.
Accordingly, we would like to congratulate those regions that have been able to encourage teachers and school officials to watch and support DepEd Teaches, such as DepEd Central Luzon, DepEd Calabarzon, and DepEd NCR, among others. Likewise, we are hopeful that the rest of the regions would inspire their teachers and school officials to support DepEd Teaches.
All the episodes are accessible through DepEd Philippines Facebook page and DepEd Philippines YouTube channel. Again, we seek for your support in the next episodes that will resume on 8 April 2021.
Thank you.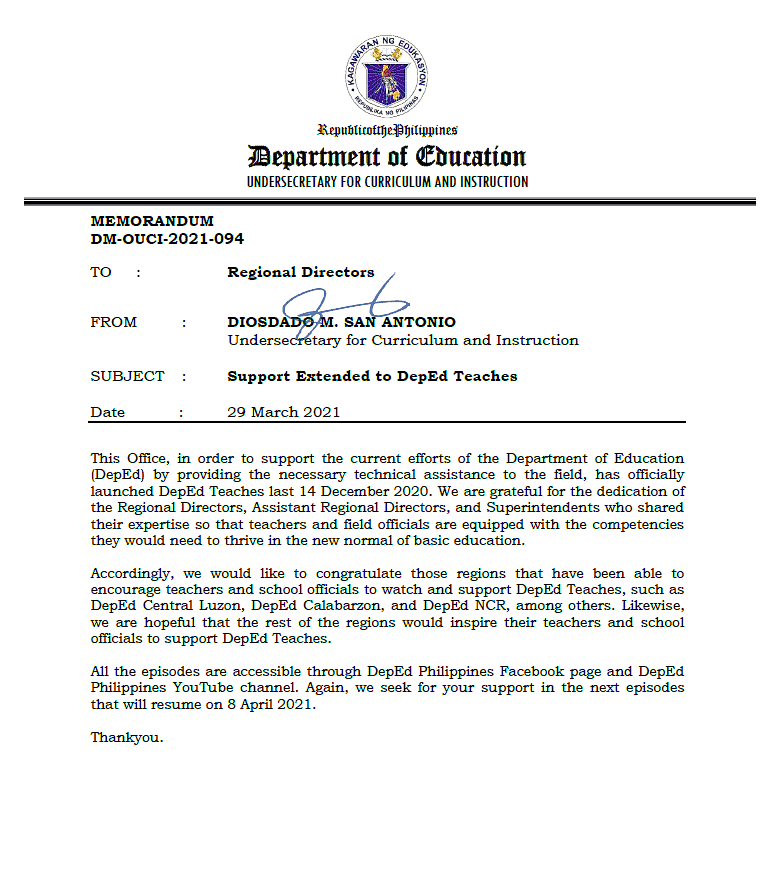 SIGN UP TO DEPED TAMBAYAN NEWSLETTER
Join our Facebook Community and meet with fellow educators. Share and download teaching materials. Get important updates and read inspiring stories.
RECOMMENDED