Following a gratitude post towards a nameless police officer at a checkpoint, Facebook user and working student Joshua Read gladly shared in a second Facebook post that he finally found and properly thanked Sirjon Nacino for his compassion amid the stress of the Coronavirus disease (COVID-19) lockdown.
Joshua, a student who works as a Grab rider, posted that he finally identified Sirjon, an officer of the Philippine National Police in Manila City, as the man he had earlier met. The post detailed how he found the cop after his first Facebook post made its rounds online. He also shared how he tried to buy food for Sirjon who then advised him to bring it home to his family.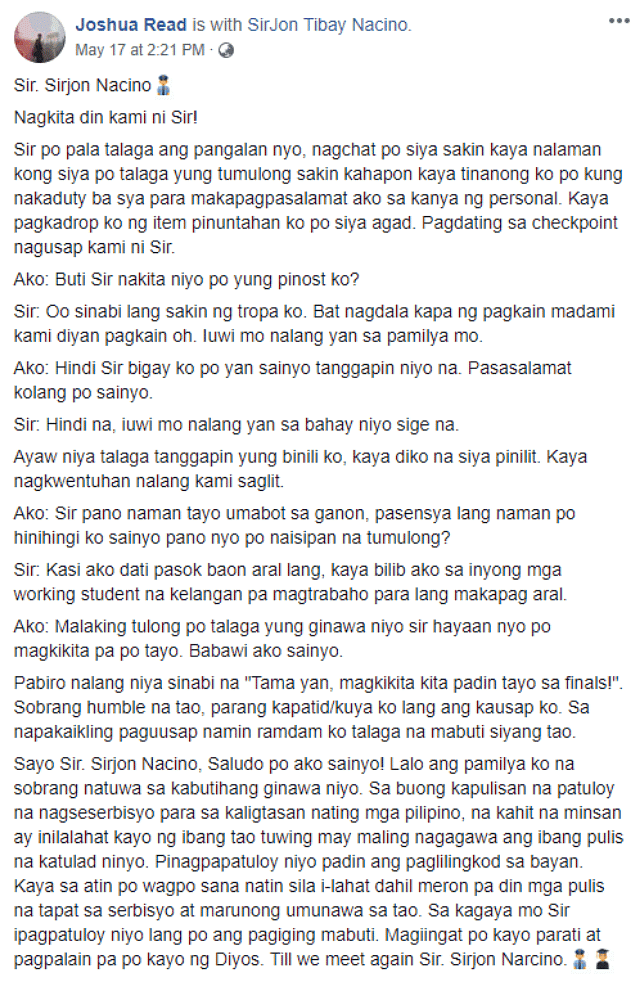 The post also explained why the cop handed him the $100-bill after reprimanding him for his traffic violation. According to Joshua, Sirjon said, "Kasi ako dati pasok-baon-aral lang, kaya bilib ako sa inyong mga working student na kelangan pa magtrabaho para lang makapag aral." (When I was a student, [I was well-provided for] I only need to go to school. That's why I admire working students who need to work to get an education.)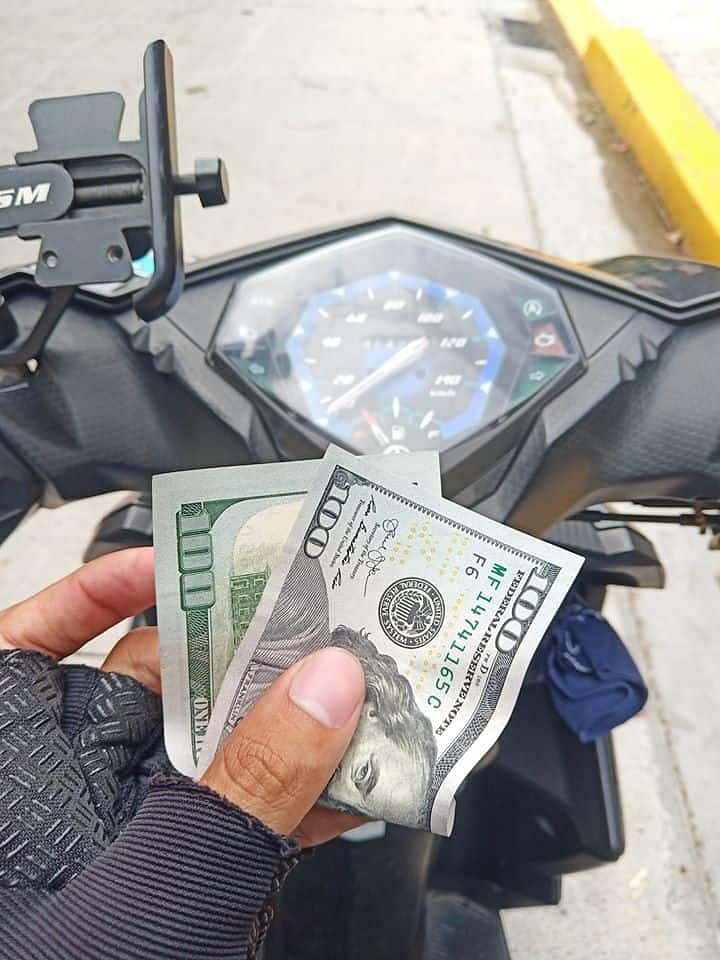 In gratitude, Joshua promised to someday make it up to the cop who merely joked by saying, "Tama 'yan, magkikita kita padin tayo sa finals!" (That's right, we will still meet at the finals!)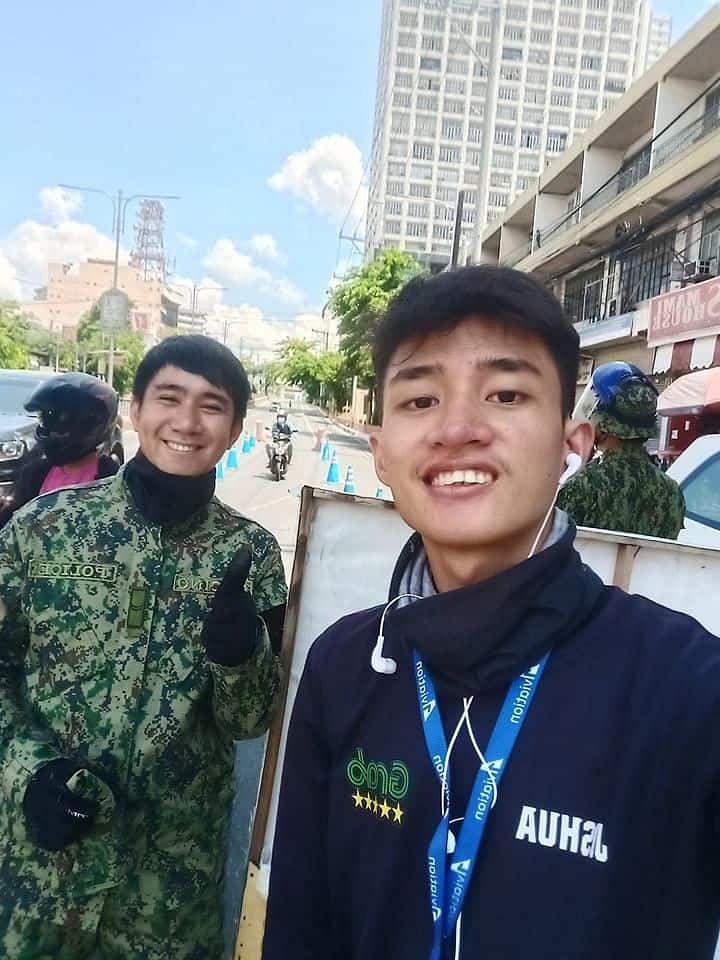 The search for Sirjon started after Joshua shared his experience at the checkpoint on a Facebook post dated May 16.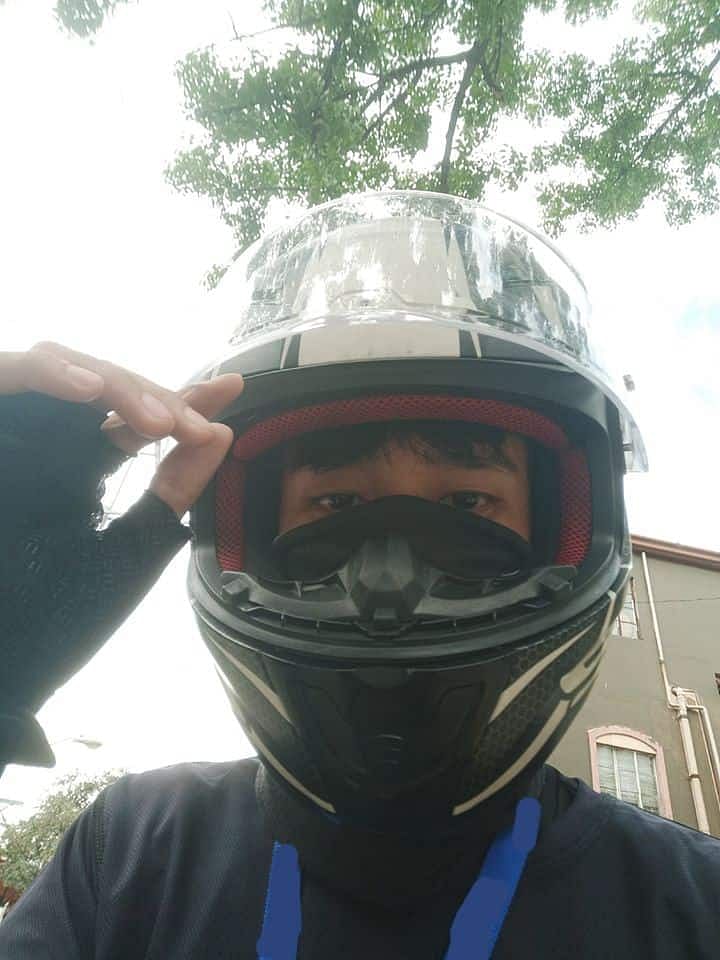 The first post shared the details of how Joshua met Sirjon after cutting into another lane at a checkpoint. He talked about how he apologized profusely to the cop who ignored him and asked for his license. He ended up showing his ID at the airport where he is undergoing his on-the-job training (OJT). According to Joshua, just when he thought that the cop would finally issue his violation ticket, he was handed a $100-bill. The experience with the police officer overwhelmed him, says Joshua, who admitted that after dropping off his delivery, he went straight home and cried.
Read the full post here: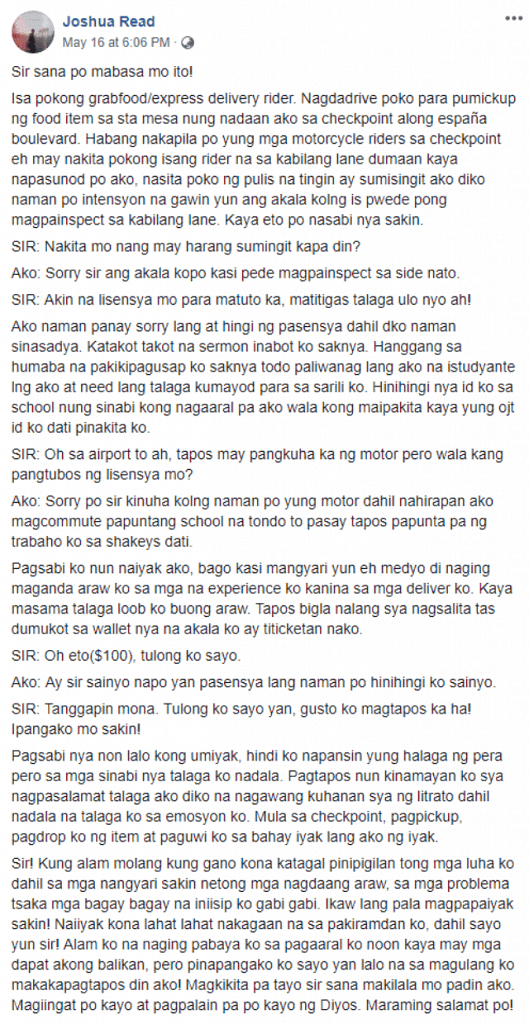 As of writing, the first post has already been shared 29,484 times and the second post detailing their meet-up has been shared 2687 times.
For more free learning materials check these links:
Workbooks
Free Instructional Materials reading materials and so much more
K-12 Powerpoint Presentations good for television displays
Detailed Lesson Plans for your lesson guides
Love in the time of corona: Free Learning Materials our collections of learning materials
15 Best Educational Websites for Teachers other websites for education
Find more materials at DepEd Commons Community
SIGN UP TO DEPED TAMBAYAN NEWSLETTER
Join our Facebook Community and meet with fellow educators. Share and download teaching materials. Get important updates and read inspiring stories.
RECOMMENDED