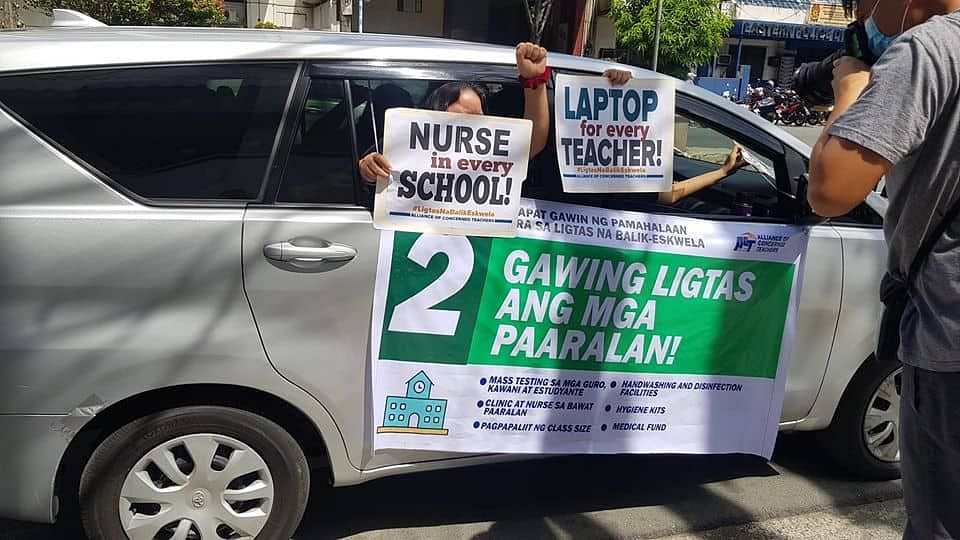 A federation of teachers called on the Department of Education (DepEd) Tuesday to protect not just the work of educators, but their health as well as the coronavirus (COVID-19) crisis threatens their livelihood and well-being.
In a protest, the Alliance of Concerned Teachers (ACT) Philippines urged DepEd to act on their demands to help teachers cope with the crisis and the proposed transition to 'blended' learning.
The group asked DepEd to ensure that schools are safe for teachers by providing mass COVID-19 testing for workers and students, and by installing disinfection facilities.
Clinics in all schools should also have nurses and class sizes should be reduced to minimize the risks of COVID-19 transmission, ACT said.
"It is therefore urgent and necessary for a comprehensive approach to be employed to resolve several vulnerabilities arising from long-time government neglect and misprioritization—unsafe schools in the face of a viral disease, lack of safety nets for education workers and the working class Filipinos, poor public health rendering millions susceptible to diseases like COVID-19, weak healthcare system that can't handle an outbreak, among others," ACT Secretary General Raymond Basilio said.
The group's protest comes just as DepEd rolled out its remote enrollment for the Aug. 24 opening of classes which will make use of blended learning due to restrictions on physical classes brought about by the COVID-19 pandemic.
DepEd had said that it would use printed modules, and online instruction for the shift to blended learning. Radio and television will also be used to aid instructions to students, it added.
A shift to blended learning will only emphasize "glaring inequities that will leave millions of learners behind, then setting up teachers and parents for blame later," ACT said.
The teachers' group however urged DepEd to provide more safety nets for educators who are in danger of losing their jobs due to the expected low enrollment turnout.
It called on DepEd to "not evade but face squarely the heightening crisis in the education system brought about by the pandemic."
READ: Teachers' group asks DepEd for higher cash allowance for blended learning
SIGN UP TO DEPED TAMBAYAN NEWSLETTER
Join our Facebook Community and meet with fellow educators. Share and download teaching materials. Get important updates and read inspiring stories.
RECOMMENDED