The Department of Education (DepEd) cancels all scheduled checking of school forms and considering alternatives like teleconferencing and other online means.
Read also: DepEd postpones Year-end Review and Evaluation Phase of the RPMS Cycle
From DepEd Central Office Planning Service:
March 17, 2020
"Per DO 11, s. 2018 – Guidelines on the Preparation and Checking of School Forms, checking is supposed to happen in the next weeks of March. The checking of forms require teachers and supervisors to come together in one place and do the checking of forms. Given the present public health situation, we are recommending to cancel all scheduled checking of school forms and employ alternative way of checking, like online, teleconferencing and other means. We call on all ITO to set up online means that will allow teachers and checkers to do the checking." Source
Update via Usec Annalyn M. Sevilla
Advisory dated March 17, 2020 from the DepEd Central Office Planning Service; released by Usec Jess Mateo on Preparation and Checking of SCHOOL FORMS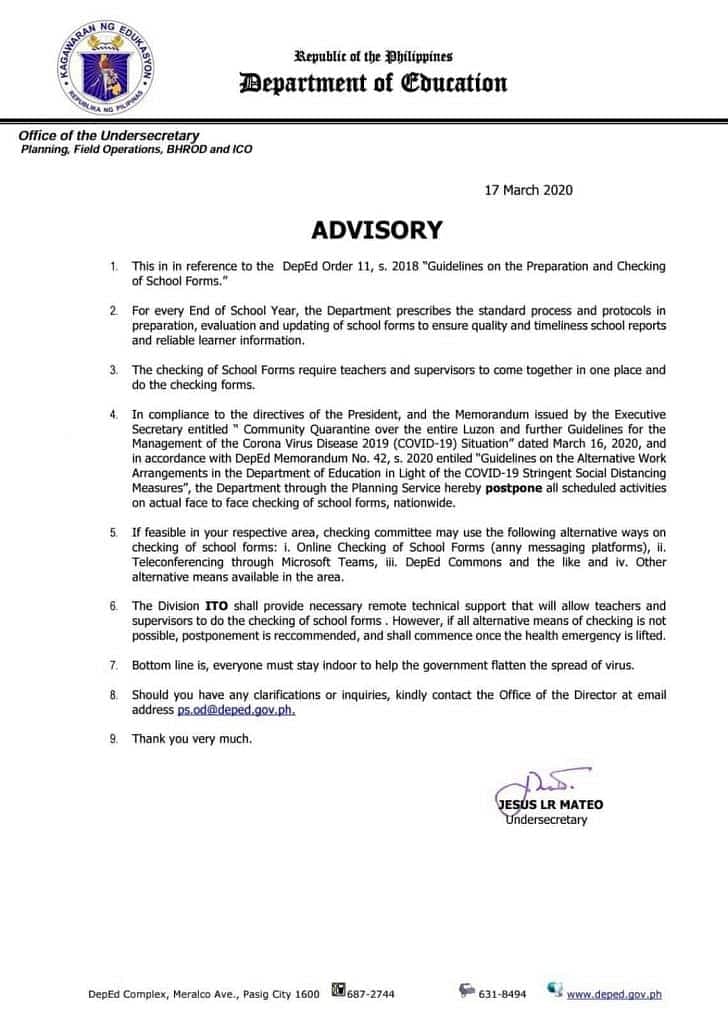 SIGN UP TO DEPED TAMBAYAN NEWSLETTER
Join our Facebook Community and meet with fellow educators. Share and download teaching materials. Get important updates and read inspiring stories.
RECOMMENDED