The Government Service Insurance System (GSIS) released a public advisory, Wednesday, March 27, 2020, giving an option to apply for a loan online amid the coronavirus outbreak.
GSIS PUBLIC ADVISORY
GSIS members and pensioners can now apply for a Consoloan, Policy Loan and Pension Loan online
To ensure the uninterrupted delivery of loan services during the nationwide Enhance Quarantine period, the Government Service Insurance System (GSIS) shall now accept loan applications from its members and pensioners online via the Internet.
Note however that GSIS will accept online applications for Consoloan, Policy Loan and Pension Loan only, and not for Emergency Loan at the moment. The GSIS Management will make an announcement regarding the Emergency Loan at a later time.
To apply for a loan, please follow the following procedure:
STEP 1
Download a loan application form from the GSIS Website (https://www.gsis.gov.ph/downlaodable-forms). fill out the loan application form.
STEP 2
Prepare a picture or PDF file of the following documents:
1. Duly accomplished loan application form;
2. Clear picture of borrower holding the duly accomplished application form;
3. Valid ID with picture and signature (front and back); and
4. GSIS temporary or UMID eCard (front and back).
STEP 3
Create an email using your personal or your office/company-assigned email address. In the email Subject/Title. provide the following information:

GSIS LOAN APLLICATION_[BP NO.]_[LAST NAMME]_[FIRST NAME]_[AGENCY NAME]
Example: "GSIS LOAN APPLICATION_2000123456_DELA CRUZ_JUAN_DPWH CEBU"
For Pension Loan:

PENSION LOAN_[BP NO.]_[LAST NAME]_[FIRST NAME]_[CITY/PROVINCE]
Example: PENSION LOAN_20000123456_DELA CRUZ_JOSE_ANTIPOLO, RIZAL
STEP 4
Email the abovementioned documents to your designated email address below (maximum of 2 MB per email):
After you have submitted/emailed your loan application documents, please wait for an email acknowledgment response from our GSIS personnel. Also, check your email regularly for messages notifying you of your Tentative Loan Computation and loan conformity, or if you submitted incomplete and/or non-compliant documents.
For active members applying for either Conoloan or Policy Loan, after we receive your email reply conforming to the Tentative Loan Computation (email conformity), your electronic loan application will then be forwarded to your respective Agency Authorized Officer (AAO) for certification.
Please know that GSIS is exerting all efforts to ensure uninterrupted service delivery to all our pensioners and members. The online mode of filing loan application is a proactive measure adopted by GSIS to address the urgent financial needs of its members and pensioners in this time of crisis.
Learn more about the online application, visit https://www.gsis.gov.ph
END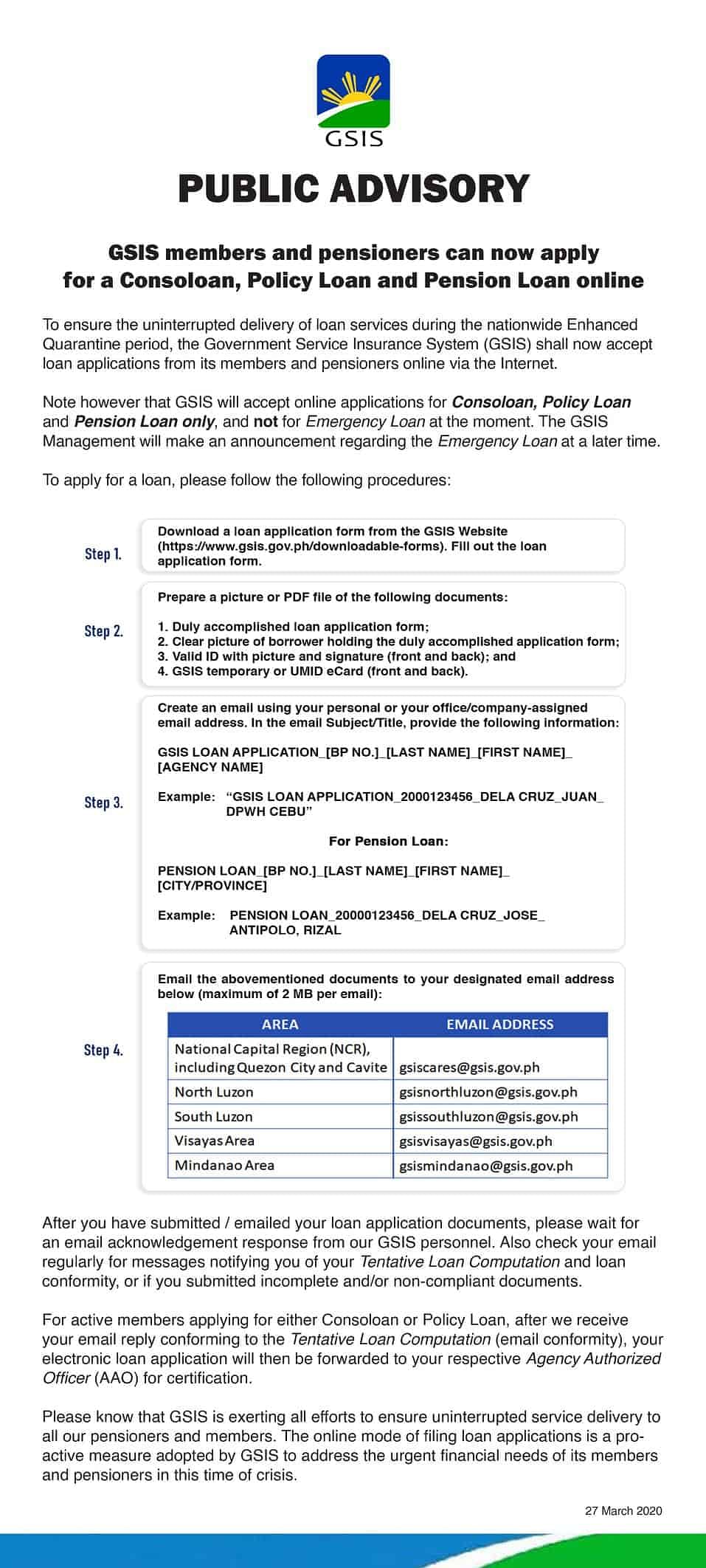 SIGN UP TO DEPED TAMBAYAN NEWSLETTER
Join our Facebook Community and meet with fellow educators. Share and download teaching materials. Get important updates and read inspiring stories.
RECOMMENDED