Download for FREE Marungko Approach reading material. Just click the link below which will redirect you to a page where you can download the files.
Why is reading important?
Reading is important because it develops our thoughts, gives us endless knowledge and lessons to read while keeping our minds active. Reading books to help us learn and understand and makes us smarter, not to mention the knowledge, vocabulary and thinking skills we develop.
In the world today where information are abundant, reading books is one of the best ways to be informed. Though reading might seem like simple fun, it can be helping your body and mind without you even realising what is happening. – from the selfdevelopmentsecrets.com
Also Download: Free Download! ART MATERIALS (Cut and Glue)
To help our teachers be the teacher that molds our students to be a better reader, we at DepEd Tambayan arranged these downloadable materials and we made sure that it is easily accessible to everyone.
Marungko Approach Cover – DOWNLOAD
Ba-ba – DOWNLOAD
Da-da – DOWNLOAD
Ga-ga – DOWNLOAD
Ha-ha – DOWNLOAD
Ka-ka – DOWNLOAD
La-la – DOWNLOAD
Ma-ma – DOWNLOAD
Na-na – DOWNLOAD
Nga-nga – DOWNLOAD
Pa-pa – DOWNLOAD
Ra-ra – DOWNLOAD
Sa-sa – DOWNLOAD
Ta-ta – DOWNLOAD
Wa-wa – DOWNLOAD
Ya-ya – DOWNLOAD
Download Marungko Booklets now for free! Just click the link below.
Marungko Booklets (Gabay sa Pagbabasa)
Preview: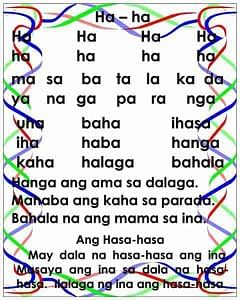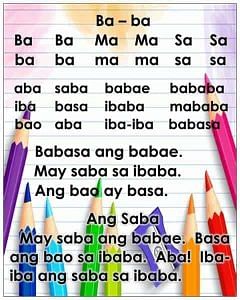 CREDITS to the owner of this material.
The Marungko Approach
Using Marungko Approach in Beginning Reading
Ms. Danah Mae L. De Belen | Teacher III | San Pablo Elementary School | Dinalupihan, Bataan
The Marungko Approach is designed to equip Grade One pupils the necessary reading skills to improve their achievement in reading. Likewise, it seeks to develop a trainingmodel to enhance teachers' competence in the teaching of reading in the primary grades most especially in Grade One. The goal of this strategy in reading is to enable grade one pupils to instill in their minds to appreciate the songs and poems created for Filipino children and eventually to communicate in written and oral forms through effective reading instruction.
The Marungko approach provides materials to the success in teaching reading. It starts with letter sounds rather than name. Certain comical stories of letter to signify its sound are being introduced.  Instead of the usual arrangement (order) of letters in the alphabet, it starts with m, s, a, I, o…
The sequence of letters in the MTB-MLE of the K to 12 Curriculum for Grade One is almost similar to that of the Marungko Approach. Considering that there is no single reading material available for Grade One pupils, it is of great help to design and craft a sole reading material for the learners that will serve as a gateway to improve pupil's reading skills, thus leading to the betterment of the teaching and learning progression.
Read more: Using Marungko Approach in Beginning Reading
Click here for more Instructional Materials
Click here for more Reading Materials
SIGN UP TO DEPED TAMBAYAN NEWSLETTER
Join our Facebook Community and meet with fellow educators. Share and download teaching materials. Get important updates and read inspiring stories.
RECOMMENDED