MANILA, Philippines – The new Implementing Rules and Regulations (IRR) of the Republic Act 10912 or the Continuing Professional Development Law of 2016 is now official.
The document from the Professional Regulation Commission (PRC) has now been signed by Chairman Teofilo Pilando Jr., Commissioner Yolanda D. Reyes and Commissioner Jose Y. Cueto Jr. It was published on Wednesday, February 13 at the Official Gazette and will take effect 15 days after.
The new provisions will take effect by March 1, 2019.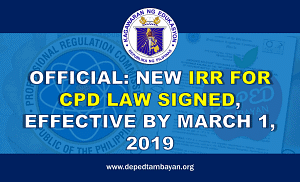 Due to the numerous complaints from professionals, the PRC in coordination with several members of professional groups, including the Alliance of Concerned Teachers (ACT) were present at a Senate Committee on Civil Service, Government Reorganization and Professional Regulation last February 4 to find solutions.
On February 7, PRC issued Resolution No. 2019-1146 that outlined the new Implementing Regards and Regulations (IRR) of the CPD Law.
While the senators agreed that majority of the local professionals seek the repeal of the CPD law, it would only take too much time and agreed to make amendments on the rules and regulations instead.
Among the significant provisions under the new IRR include:
CPD is still a mandatory requirement for the renewal of the PRC ID of all registered and licensed professionals.
Significant decrease in the number of required CPD units for the renewal of professional license. From 45 units, it's now down to 15 units every three years.
In-house trainings and capacity-building activities of government agencies and corporations, including local government units and private employers shall be credited and considered as CPD compliance.
A transition period will be implemented while the PRC is working with CPD councils to fulfill the "pre-conditions" required from them.
The following will be observed during the transition period:
Professionals working abroad shall not be covered by the CPD requirement during the period of their employment abroad
Newly licensed professionals shall be exempted from CPD requirements for their first renewal
CPD councils shall reduce the required CPD units to a minimum which shall not be more than 15 CPD units
All seminars attended by licensed professionals should be recognized as CPD units and shall be accepted as valid for the renewal of their licenses
Professionals who renewed their PRC ID's by signing an Undertaking shall only comply the required 15 CPD units, in pursuant to the Resolution.
PRC Chairman Pilando earlier shared that he is hopeful that the new provisions will help ease the burden on our professionals while they iron out the CPD Law. He said, "Hopefully once all of these things are met then we will be prepared the mandatory character of the law."

Source: The Summit Express
SIGN UP TO DEPED TAMBAYAN NEWSLETTER
Join our Facebook Community and meet with fellow educators. Share and download teaching materials. Get important updates and read inspiring stories.
RECOMMENDED