A teacher here will represent the country in the upcoming Mister Working Men International 2019 to be held in Thailand on Oct. 15-22 this year.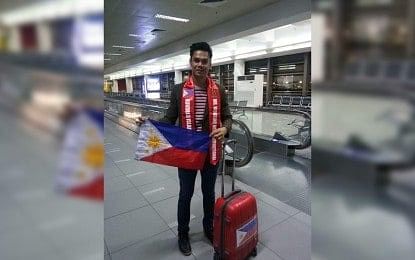 Dr. Filemon 'Mon' Rivo is one of the two Philippine representatives to compete with 30 other nationalities in the international pageant for the prestigious title. He will contend alongside Police Corporal Willy Quinto of Angeles City, Pampanga.
The Mister Working Men International 2019 is an international pageant searching for independent working and professional men who possess character as an ambassador of well-being.
"The Maharlikans organization based in the Middle East invited me to join the pageant since we've already known each other a decade ago, and I agreed to join the pageant," Rivo said in a phone interview Monday.
Rivo is a pageant and modeling enthusiast who won his last pageant in April this year, when he was eventually tapped as an official representative of the country.
Rivo is a family man married to a fellow teacher, Mitchellene, and blessed with two children, Samantha Allarir and Sasha Amber.
He is a true blue Dagupeño who is currently teaching high school at Bonuan Boquig National High School, where he graduated from his elementary studies.
He finished high school at the Dagupan City National High School and earned a college degree at the University of Pangasinan. He took his masters and doctorate degrees at the Baguio Central University.
Rivo is also one of the school paper's advisers and a basketball varsity coach.
"Actually, busy na kami masyado kasi we are preparing for the Division Schools Press Conference (DSPC) pero kailangan nating gawin ito hindi lang para sa Dagupan City, kundi pati na rin para sa bansa (We are actually busy preparing for the DSPC but we need to do this not only for Dagupan City but also for the country)," he said.
Rivo is confident that he can bring glory to the country, whether he brings home the bacon or not.
"Just enjoy the pageant and trust the Lord and everything will follow," he said.
He then urged fellow Dagupeños and Pangasinenses who are interested in pageants and modeling to push through with their goals.
"Just follow your heart. Make sure that you are passionate (about) everything you do and don't be distracted by other people. Go follow your dreams," he said.
Source: PNA
SIGN UP TO DEPED TAMBAYAN NEWSLETTER
Join our Facebook Community and meet with fellow educators. Share and download teaching materials. Get important updates and read inspiring stories.
RECOMMENDED