Pursuant to Civil Service Commission Memorandum Circular (CSC MC) No. 40, s. 1998 and as amended by CSC MC No. 9, s. 2012, this is to provide the field offices with a uniform basis for the Computation of the Proportional Vacation Pay (PVP) for School Year (SY) 2019-2020 fo all public elementary, secondary, and senior high school teachers under the teacher's leave basis.
For SY 2019-2020, each of the teachers who have rendered continuous service from June 3, 2019 to April 3, 2020 shall be entitled to 80 days total of PVP from Summer and Christmas vacation days.
DepEd MEMORANDUM
No. 049, s. 2020
COMPUTATION OF PUBLIC SCHOOL TEACHERS' PROPORTIONAL VACATION PAY FOR SCHOOL YEAR 2019-2020
Read the full memo below: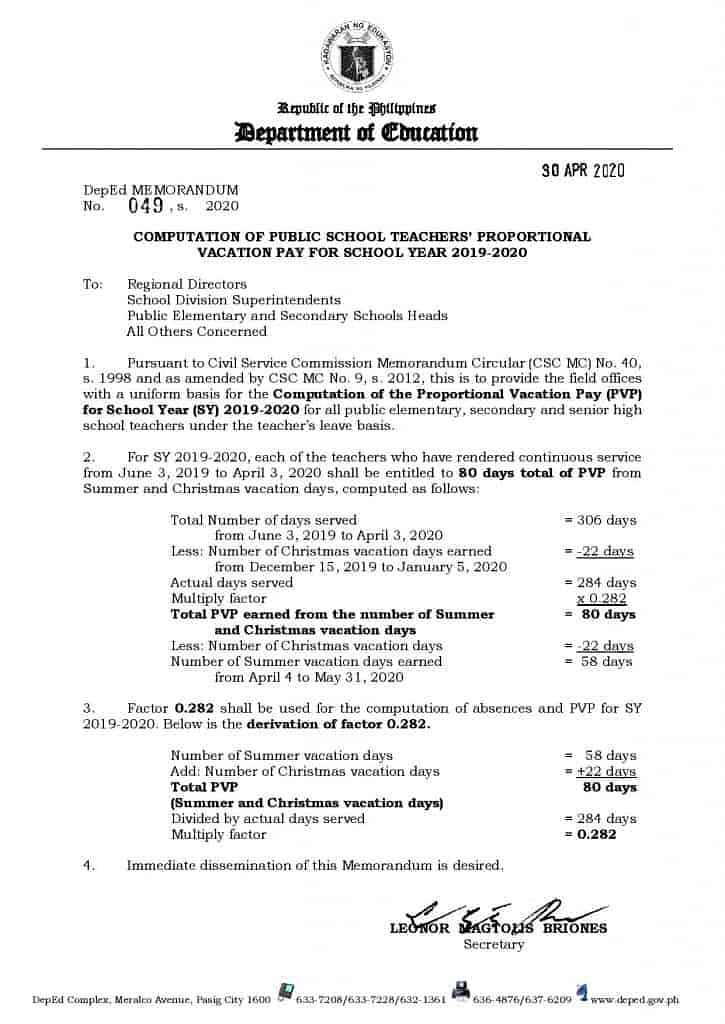 SIGN UP TO DEPED TAMBAYAN NEWSLETTER
Join our Facebook Community and meet with fellow educators. Share and download teaching materials. Get important updates and read inspiring stories.
RECOMMENDED