Download transmutation templates for schools without 4th quarter exams as posted by Usec Annalyn Sevilla on her official Facebook page.
Read also: Update on the release of clothing allowance
In support to DepEd Memorandum 42, s. 2020, the Department of Education is providing grading and transmutation templates for schools that are unable to administer the 4th Quarter Examination due to suspensions in their areas, where the fourth quarter grade of learners will be based on class standing composed of written work and performance tasks.
The following templates are available:
• Grade 1 to Grade 10
• Senior High School – Academic Track
• Senior High School – TVL, Sports and Arts and Design Tracks
The templates may be downloaded from http://bit.ly/Q4GradingTemplate
Teachers may input the names of the learners, raw scores and highest possible scores for written work and performance tasks. Meanwhile, the template will compute the percentage score, weighted score and transmuted grade based on the weights and transmutation table provided in the abovementioned DepEd Memorandum.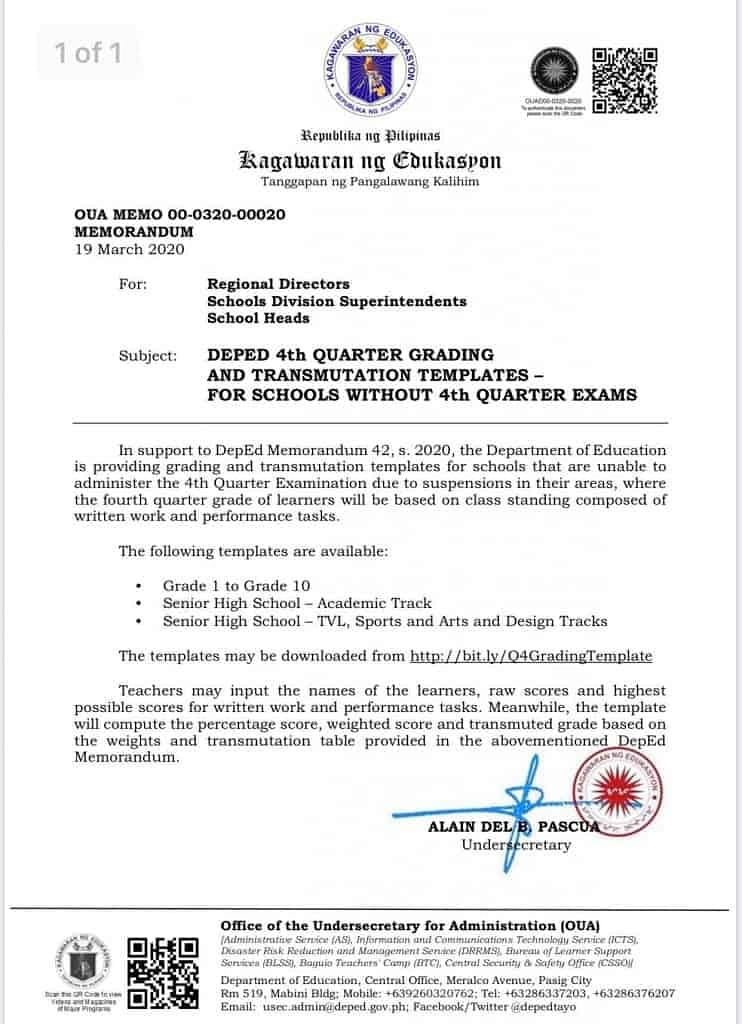 READ MORE
Modified E-Class Record for the 4th Quarter
DepEd to release early April salary, 2018 PBB update
DepEd launches "DepEd Commons" online platform
SIGN UP TO DEPED TAMBAYAN NEWSLETTER
Join our Facebook Community and meet with fellow educators. Share and download teaching materials. Get important updates and read inspiring stories.
RECOMMENDED