August 20 & 22, 2018 are NOT  Regular Holidays. Special non-working day and cancellation of classes only applies to Lucena City and Quezon City.
Lucena City –  Malacañang issued  Proclamation No. 554 declaring Monday, August 20, a special non-working day in Lucena City in Quezon province to mark its Charter Day anniversary.
Quezon City – The cancellation of classes for August 20 was ordered for Quezon Cityby Mayor Herbert Bautista to commemorate the birth anniversary of former President Manuel L. Quezon.
No holiday on August 22, because Eid'l Adha has been proclaimed to be on August 21, the same as Ninoy Aquino Day.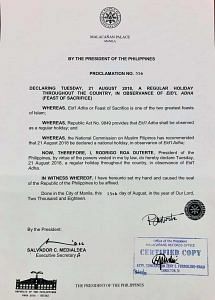 Continue to read below to know other holidays…
List of Regular and Special Non-Working Holidays in August 2018
August 21, 2018 has been declared both regular and a special non-working holiday throughout the country.
President Rodrigo Duterte signed Proclamation No. 556  which declares August 21, 2018 a regular holiday in observance of Eid'l Adha. Eid'l-Adha also called the "Festival of Sacrifice", is the second of two Islamic holidays celebrated worldwide each year – the other being Eid al-Fitr- and considered the holier of the two. It honors the willingness of Ibrahim (Abraham) to sacrifice his son as an act of obedience to God's command.
August 21, 2018 is also a special non-working day to mark the 35th death anniversary of former Senator Benigno "Ninoy" Aquino, Jr.
According to the Department of Labor and Employment (DOLE), those who work on this day shall be paid 200 percent of the sum of their daily rate and cost of living allowance plus an additional 30 percent of the doubled daily rate. The agency released an advisory to inform employees and employers of the payment of wages when a day is both a regular holiday and a special non-working day
August 27, 2018 is National Heroes Day which is a regular holiday to honor and remember the country's National heroes.
August 20, 2018 – Birth Anniversary of former President Manuel L. Quezon.
Classes in all levels at private and public schools in Quezon City have been suspended for Monday, August 20, to commemorate the birth anniversary of former President Manuel L. Quezon. Quezon City Mayor Herbert Bautista issued a memorandum that ordered the cancellation of classes and also asked that following the class suspension: "Appropriate remedial classes and/or academic work shall be provided by the faculty."
SIGN UP TO DEPED TAMBAYAN NEWSLETTER
Join our Facebook Community and meet with fellow educators. Share and download teaching materials. Get important updates and read inspiring stories.
RECOMMENDED