IPCRF automated tool for teachers
Download Automated Standard IPCRF for Teachers (Final and Official Version from DepEd)
School year 2019-2020 has just ended. Learners are already on vacation, but sadly (yes this really true) teachers will still be in school doing paper works like school forms and IPCRF. If you still doesn't have an idea what is IPCRF please continue reading and we will discuss what is IPCRF and why do you need to know it. But if you just came to download the files please browse to the bottom of this page.
The Individual Performance Commitment and Review Form IPCRF is an assessment tool for government employees' to rate the task a teacher accomplished for a year.
The Individual Performance Commitment and Review Form IPCRF is an assessment tool for government employees' to rate the task a teacher accomplished for a year. So as you know a teacher focus mainly on Basic Education Service as his or her major final output.  IPCRF is composed of the KRA's or Key Result Areas which involves Instructional Competence, Professional growth, Learning Outcomes, Community Involvement and the Special Task which should have at least 15 objectives.
To determine the final score we need performance indicators that shows the performed objectives and with ratings of the following 5 – Outstanding, 4 – Very Satisfactory, 3 – Satisfactory, 2 – Unsatisfactory, and 1- Poor Performance. Also the job is done in accordance with the rating of MOV's or Modes of Verification in each objectives attached.
Okay, so IPCRF isn't that hard to understand isn't it, or do you still need to know more. Let's continue. The IPCRF is a general plan of task that serves as a guide to educators (yeah I mean teachers) to be written before the start of classes and be implemented during the school year and as we have mentioned earlier to be rated at the end of the school year. And the objectives are actually the duties and the responsibilities the teacher must do. So IPCRF is basically exist to check and monitor as well to balance the duty of the teacher, to see if the work is diligently and efficiently done. So that's it.
In conclusion, the IPCRF is the notifying factor for the teacher to exert more effort in teaching and in complying with the standards and guidelines set by the Department of Education (DepEd). May this rating may not put too much burden to our fellow teachers but may this serve as a motivation in fulfilling our noble profession that we have chosen.
Now, to make your work easier DepEd Tambayan will provide you the latest (IPCRF) automated tool and from our other posts of sample IPCRF for teachers.  These tools are easy and practical to use. May this file help you to teach more and have more time with your family and not in creating your own Individual Performance and Commitment Review Form (IPCRF).
Hey there, if you are looking for IPCRF for teacher 2019 or IPCRF guidelines and you just escape reading our article above good news below is the download link.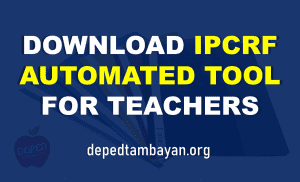 Automated IPCRF for Master Teacher – DOWNLOAD
RPMS OFFICIAL TOOLS
DepED RPMS Manual – DOWNLOAD
RPMS Tools for Master Teacher I-IV – DOWNLOAD
Classroom Observation Tool (COT) for Teacher I-III – DOWNLOAD
Classroom Observation Tool (COT) for master Teacher I-IV – DOWNLOAD
COT Observation Notes – DOWNLOAD
Professional Standards for Teachers in the Philippines – DOWNLOAD
RPMS OFFICIAL FORMS
Download from the RPMS-PPST for SY 2019-2020 OFFICIAL GOOGLE DRIVE FILES – DOWNLOAD
1st Quarter | 2nd Quarter | 3rd Quarter | 4th Quarter     GRADE 1 Daily Lesson Log (2019 – 2020 DLL)
If this page has helped you please don't forget to share and comment down below.

NOTE
DON'T WORRY! We are always on the process of uploading new files.
For additional updates and unannounced uploads, please visit this section from time to time.
Like us on Facebook to receive INSTANT UPDATES. CLICK HERE
You can also BOOKMARK this page in your web browser by clicking Ctrl+D in your keyboard for faster access in the future. Thank you for supporting DepEd Tambayan. 
DepEd Tambayan is grateful to all file contributors and writers.  We are also thankful to our site admin and editors, tech team, hosting provider (Digital Ocean), system admin, and  especially to all our fellow teachers for helping us and making this service possible.
TERMS OF USE
DepEd Tambayan reserves the right to change, remove, and add information (including pictures and links) on this page. In the event that any changes are made, the revised page shall be posted on this website immediately. Please check the latest information posted herein to inform yourself of any changes. Read our full terms of use.
DISCLAIMER
Contents provided on this website is for educational purposes only. The contributors including the admin do not claim ownership to all of the contents shown. We believe that through online platform like this the dissemination of information for teachers will be easier and faster. For rightful claims and removal please inform us in our contact page.