Authorities have given an update on the status of the missing youths in Pasay
The children, believed to be abducted, were taken by unknown individuals to various vehicles.
The Pasay City mayor had previously ordered investigation into the issue.
MANILA, Philippines—The families of the teenagers who have gone missing since last week in Pasay City remain clueless on their disappearances, but various speculations have started to surface.
Between Nov. 20 and 22, nine teenagers—one female and eight male, aged 15 to 23—disappeared in Pasay City.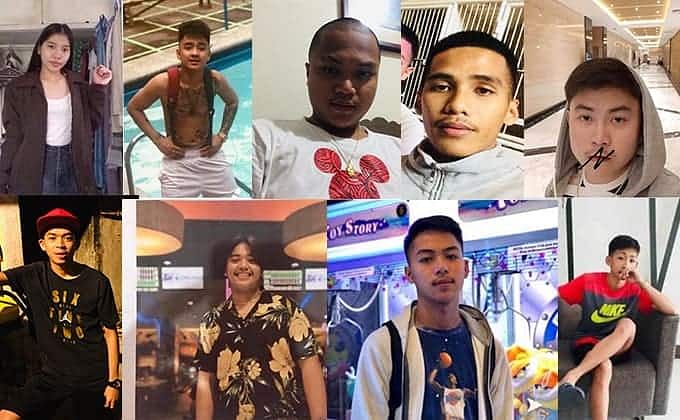 They were identified as John Samuel Esguerra, 19; Niña Jane Ignacio, 19; Reine Louisse de Ocampo, 15; Kojie Marquez, 16; Norealle Butiong, 21; Gil Josh Ramirez, 18; Leogee Tiposo, 23; Roujen Serban, 21; and Sebastian Montoya, 22.
De Ocampo and Marquez were in front of a fast food restaurant on Taft. Ave. on the night of Nov. 20 when they were taken inside a five-seat car. Meanwhile, Esguerra was with Ignacio, his girlfriend, when they went missing on the same date.
In the early morning of Nov. 22, Butiong, Ramirez, Tiposo, and Serban were last seen in Barangay 14 before they disappeared. That night, Montoya was seen being taken inside a van in Barangay 28.
Butiong's mother, Julietta, expressed fear that her son might have already been taken by a syndicate.
"Investigators of the Criminal Investigation and Detection Group said that it could be a syndicate who was behind this as they did not see any motive behind their disappearances," Julietta said in Filipino in a GMA News report.
Meanwhile, Montoya's aunt, Emilita Gonzales, claimed that she was told that it could be anti-narcotics authorities who allegedly took her nephew.
"They were telling me at the police station that it could be anti-narcotics authorities in civilian clothes who took them. So now, I'm thinking why would they do this to my nephew," she said.
Emilita bared that the police recently talked to her to surrender her nephew to authorities as he was allegedly in the drugs watchlist.
"They talked to me and said that his name was already in the drugs watchlist. They advised me to surrender him wherever he is," she said.
Col. Bernard Yang, Pasay City police chief, told reporters that no one among the missing teenagers is in any drugs watchlist.
Montoya's mother—Carmie, who now lives in Quezon City and manages a business—backed Yang's statement. She told Manila Bulletin that her son was not a drug user.
Just the same, she expressed hoped that Montoya was just under police custody if the allegations against him was true.
"I really don't know the reason behind his disappearance. But for me, it's better if he was now with the police because I believe, they would return him," she said.
"It's difficult if it would be a syndicate who kidnapped him, like what I was told at the national police headquarters. That is what we fear," she added.
Kidnapping or missing?
De Ocampo's mother, Grace, told Manila Bulletin that they obtained a copy of a closed-circuit television (CCTV) footage taken in Pasay Rotunda along Taft Ave., where her son was allegedly abducted and forced into a red Honda City around 6:25 p.m. of Nov. 20.
"He was conscious [when he was taken]. But my son was apparently resisting," she said.
She added that, de Ocampo's friend, Kojie Marquez, was also taken inside the same car.
"He was with Kojie, his former classmate, when they went missing. I was told that Kojie was going to meet up with a certain JS Esguerra, who is also missing," she said.
"Based on the CCTV (footage) that we obtained, Reine and Kojie were at a fast food restaurant. According to Kojie's girlfriend, who was with them, they would meet someone."
Marquez's girlfriend just went to a nearby grocery but when she returned, the two were already gone, she added.
Grace said she still had no idea about what may be behind her son's disappearance.
Meanwhile, a CCTV footage in Barangay 28 Zone 4 of Pasay City showed Montoya being taken by two men inside a Toyota Hiace van parked on Villaruel St. with license plates AEA 1051 on Nov. 22 around 6:40 p.m.
Before the incident, five men got out of the van and appeared to have been waiting for someone. Montoya's mother said that in another CCTV footage, a motorycle was also seen tailing the van.
In a statement, Pasay City Mayor Emi Calixto-Rubiano said that she already ordered the police to investigate the disappearances.
"We want these resolved immediately to ease the anxiety and uncertainty of their relatives," she said.—Manila Bulletin
SIGN UP TO DEPED TAMBAYAN NEWSLETTER
Join our Facebook Community and meet with fellow educators. Share and download teaching materials. Get important updates and read inspiring stories.
RECOMMENDED