The rainy season begins. With it, the chances of getting a dengue is higher than usual. Even for a country like Thailand that has no definite season for a peak dengue period since they are present all year round, it is most likely that dengue-carrying mosquitoes will increase. Due to stagnant waters that remain after the rain.
"Dengue is one of the fastest-spreading mosquito-borne diseases. Worldwide, the incidence of dengue has increased 30-fold over the past 50 years. Dengue is a major public health concern as it can develop into a potentially fatal form called 'severe dengue'", according to WHO.
It is but a common thinking to make ways to prevent this generally mild but deadly disease. The question is, in what way?
In a Facebook post shared by RNM Iloilo last july 5, a teacher standing in front can be seen with her students sitting in their chairs while covered in a pink mosquito net. She also made sure to place big fans around for the students to stay comfortable.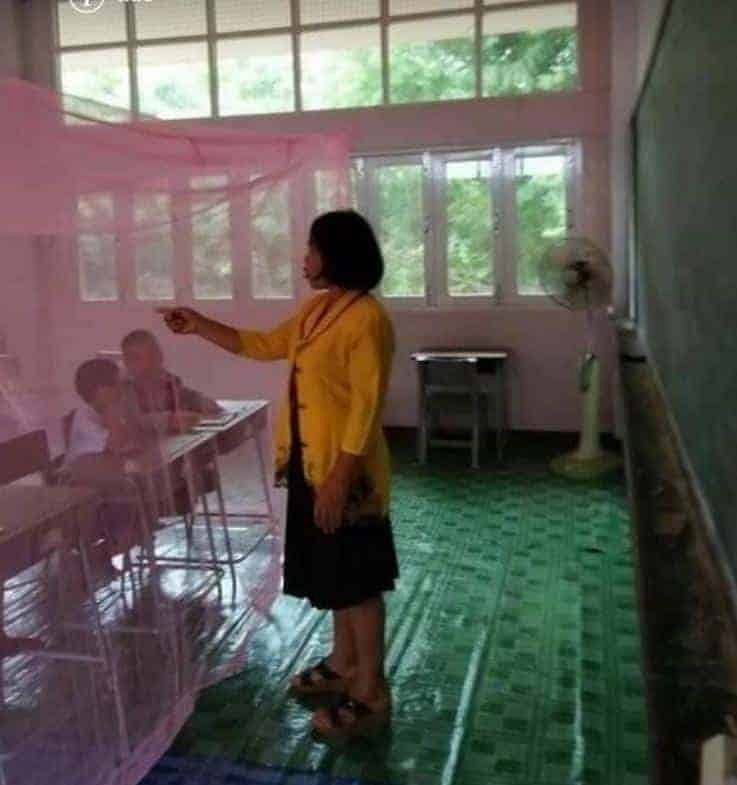 She is clearly a resourceful and a dedicated teacher among her students for this great idea in an attempt to prevent this deadly disease. Netizens commends her for her unique idea and genuine concern for making sure her students stay well and healthy.
Prevention and Control
It is a clever idea but we still need to make our surroundings clean and free of stagnant water. WHO stated in there website that at present, the main method to control or prevent the transmission of dengue virus is to combat vector mosquitoes through:
preventing mosquitoes from accessing egg-laying habitats by environmental management and modification;
disposing of solid waste properly and removing artificial man-made habitats;
covering, emptying and cleaning of domestic water storage containers on a weekly basis;
applying appropriate insecticides to water storage outdoor containers;
using of personal household protection measures, such as window screens, long-sleeved clothes, repellents, insecticide treated materials, coils and vaporizers (These measures have to be observed during the day both at home and place of work since the mosquito bites during the day);
improving community participation and mobilization for sustained vector control;
applying insecticides as space spraying during outbreaks as one of the emergency vector-control measures;
active monitoring and surveillance of vectors should be carried out to determine effectiveness of control interventions.
SIGN UP TO DEPED TAMBAYAN NEWSLETTER
Join our Facebook Community and meet with fellow educators. Share and download teaching materials. Get important updates and read inspiring stories.
RECOMMENDED