On November 30, 2015, only 34 010 out of 140 000 graduates passed the Board Licensure Examination for Professional Teachers (BLEPT).
Out of these 34 010 who passed the said examination, there are 10 who topped among them. It was Eula Mae Carlos Busbus from University of MindanaoDavao City who is ranked number one with a rating percentage of 90.20. But the most notable among them, even in the 10, is the person who comes next to Miss Busbus.
With a rating percentage of flat 90.00, Iah Bantang Seraspi, a daughter of a fisherman and a plain housewife proves that poverty is not an excuse in achieving success.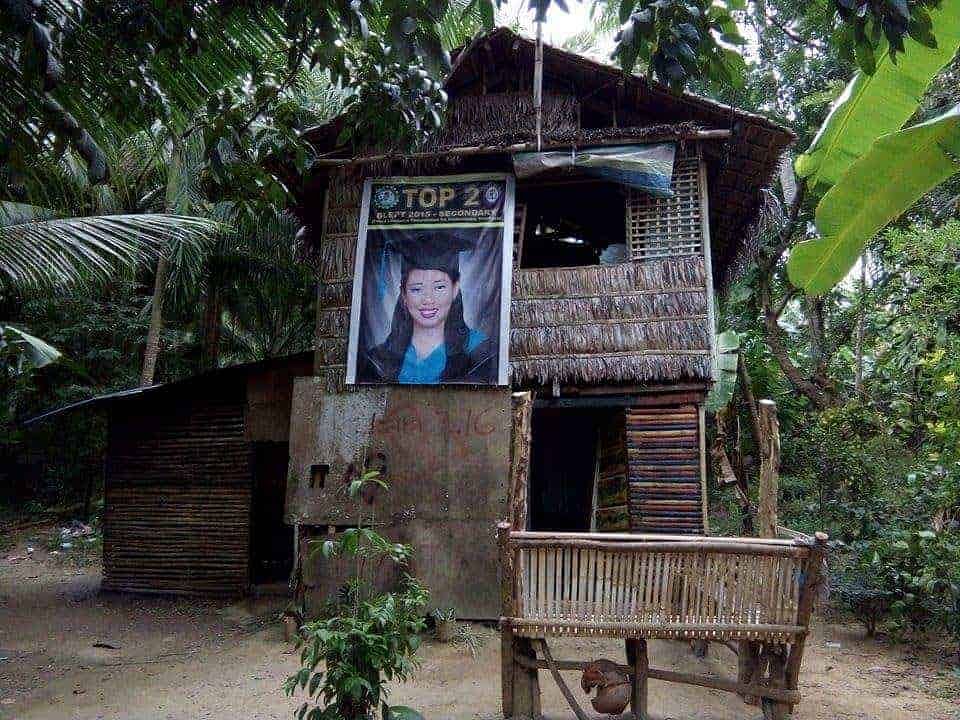 Even with the hardships she is facing, Seraspi graduated at Romblon State Universityas as a Cum Laude with a degree in Bachelor of Secondary Education (BSED) major in Biological Science.
Determined to top the BLEPT, she opted not to accept job offers immediately after receiving her diploma. Seraspi participated in review classes and did everything she could in order to achieve her goal. In fact, she was able to finish a total of 10 books from cover to cover not including the handouts and other materials she sourced out at the time she was preparing for the exam.
"I secretly wrote in my notebook these words: Goal: To top the BLEPT; Deadline: September 27, 2015. This is to remind me everyday that I have a goal to meet and to avoid procrastinating," she told Romblon News.
With the blessings she received, she did not forget to give back, "I am aware that topping the BLEPT comes with a cash prize. So in silence, I asked God that if He would make me a topnotcher, I would buy our church, Joshua Generation, an LCD projector out of the pot money I will receive".
She is the best example that hardwork and perseverance pays off. An inspiration to every aspiring young students. But also a reminder that we must not take everything for granted. That we must also be grateful of what we have.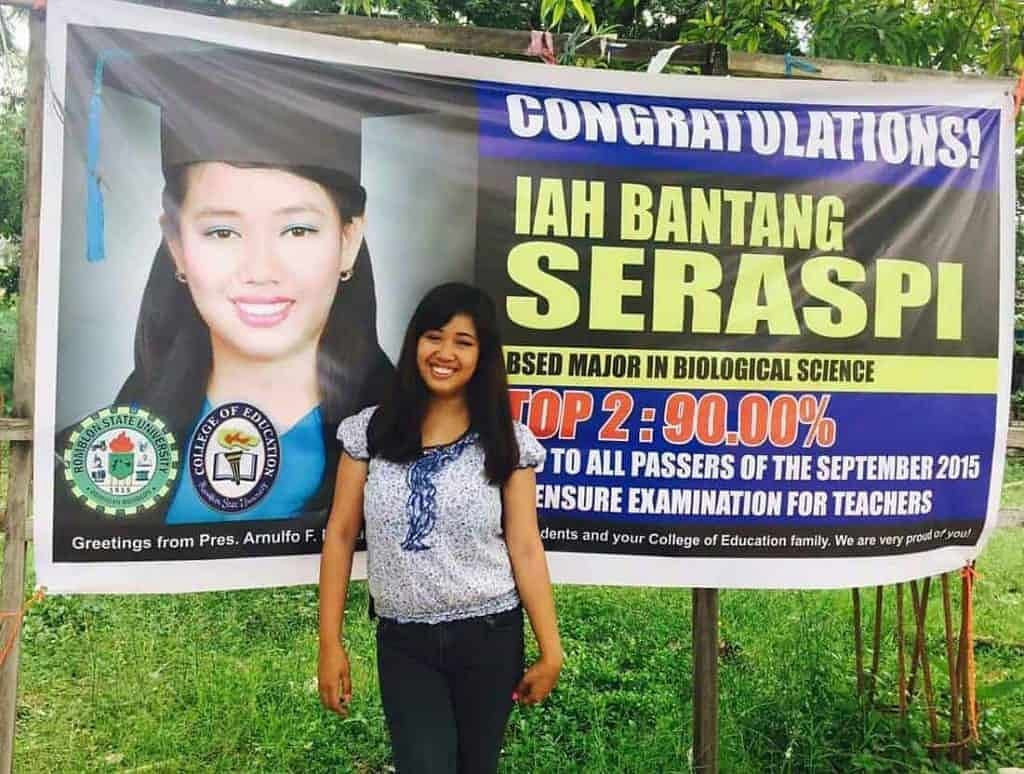 On their Testimonial Dinner, Seraspi had a very emotional and inspiring speech.
"I came from a poor family. I'm not telling you this to humiliate my family nor to get your sympathy. I just want you to realize how blessed you are if you were able to live a life better than mine. My father is a fisherman and my mother is a housewife. Since I started schooling in my elementary years , feeling ko mayaman na kami pag nakapag-ulam kami ng noodles sa breakfast. Most of the time, chichiria, kape, asin, asukal at kahit ano lang basta't may lasa ang ulam ko. Imagine the nutrition I got from those foods. Yet, I was an achiever in school….Di naman nila makikita laman ng tiyan ko eh but they could definitely see the capacity of my brain. During my high school years, I had to tutor kids to augment my family's income..Siguro, di rin kayo maniniwala kung sasabihin kong I was already 21 years old (only this year, April 2015 ), when we had electricity in our house. Literally speaking, I was really burning the midnight oil, I should say for those years just to study my lessons .Kaya napakapalad niyo kung pinanganak kayo na may liwanag na ang buhay. Make the most out of it to improve your education. And never think na dahil sa Romblon State University kayo nag-aral, wala tayong laban sa mga prestigious schools. If you have doubts in the quality of education you are receiving, fix your mind on our University vision: Romblon State University as a premier institution of higher education in the Mimaropa Region for a globally competitive province of Romblon.
It takes a village to create a topnotcher. At this point, allow me to extend my gratitude to everyone who contributed to my success. First and foremost, to God for making a mighty miracle in my life. To my parents, Tatay Miguel and Mama Susan, to my siblings for the unlimited support and understanding of all my plans in life. Thank you also to all of my mentors from Elementary to College level who molded me to become what I am now.
I would also like to thank Ate Deborah Esquejo Garcia who financed my college education and my review, I will never experience this joy if you did not help me achieve my dreams in the first place. I also extend the same gratitude to Kua Rodom, Kua Kristoffer, Kua Ercleo, and Kua Francis for treating me like their own sibling. Also, the same gratitude to Ate Nieves Fiel Alvarez who helped me in my highschool education.

To those who are dreaming to be the next topnotcher, commit yourself and be ready to sacrifice. Have a strong motivation, be it intrinsic or extrinsic. Try to bargain with God. He blesses us fairly without expecting something in return but He knows the intentions of our mind and the desires of our hearts. Lastly, never doubt the power of prayers. God answers, big time! Congratulations to my fellow BLEPT passers. We are now officially teachers. It's a great pleasure for me to bring honor to our university and province. Onwards Alma Mater dear. Onwards Romblon. Thank you and to God be the glory."
Check out Seraspi's inspiring story as shared by Debbie Esquejo Garcia, a US-based nurse who financed her college education.
SIGN UP TO DEPED TAMBAYAN NEWSLETTER
Join our Facebook Community and meet with fellow educators. Share and download teaching materials. Get important updates and read inspiring stories.
RECOMMENDED