Japan's Business Breakthrough University (BBT) in Tokyo has decided to go the unique way and let their students use robots and experience their graduation ceremony despite the COVID-19 outbreak.
In a video that has gone viral online, BBT University was seen hosting a futuristic graduation ceremony, with 'avatar robots' in togas and caps while the students are safely navigating them from the safety of their homes. The robots had an iPad as its face and the photo of the student navigating the robot is flashed on the screen while they receive their diplomas. The robots were called 'Newme'. It was created by ANA Holdings, and was set up with Zoom conference calling for the student who is 'attending' the graduation ceremony.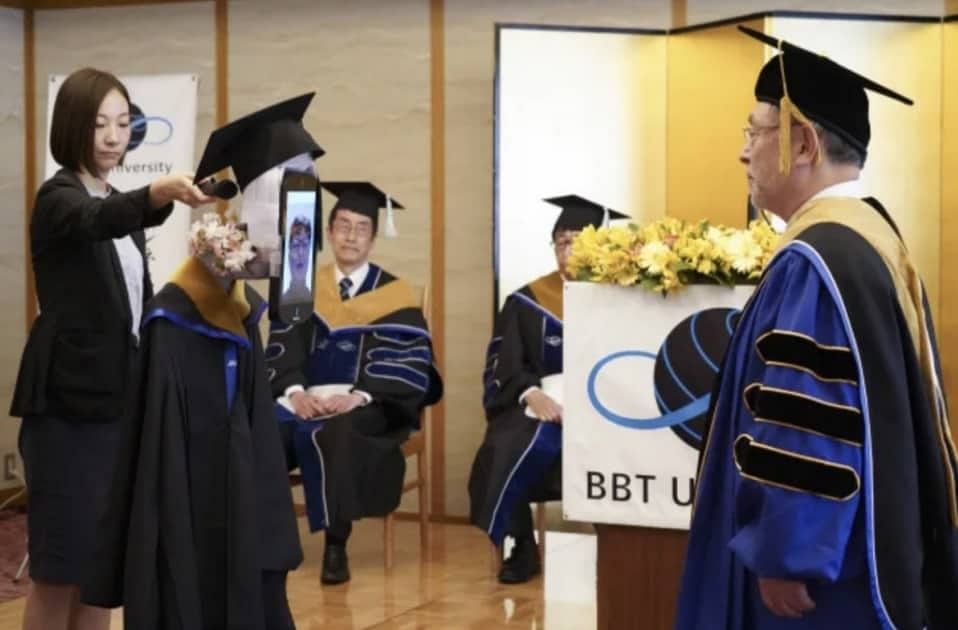 The futuristic graduation ceremony was the brainchild of Professor Shugo Yanaka, Dean of the Department of Global Management at BBT University. According to Yanaka, he "knew that there were lots of students who would like to attend the graduation ceremony but wouldn't be able to do so due to Coronavirus concern."
"I think this is truly a novel experience to receive a certificate in a public area while I am in a private space,"

said Kazuki Tamura upon receiving his master's degree diploma.
Yanaka also said that the university aimed for the graduation to be as 'real' as possible through "teleportation experience" so the students would feel like they were attending the event.
The upgraded robot-aided graduation earned praise from netizens. A Twitter user even said, "Due to the current quarantine measures, I've heard of remote studying. but the Business Breakthrough University (BBT) in Japan took it a step further: Remote graduation!"
Watch the graduation ceremony here:
SIGN UP TO DEPED TAMBAYAN NEWSLETTER
Join our Facebook Community and meet with fellow educators. Share and download teaching materials. Get important updates and read inspiring stories.
RECOMMENDED