This Grade 1 English Workbook for Advanced Reading is a premium service and provided free of charge by Aral Pinas, the country's first total solution provider for free workbook and learning materials.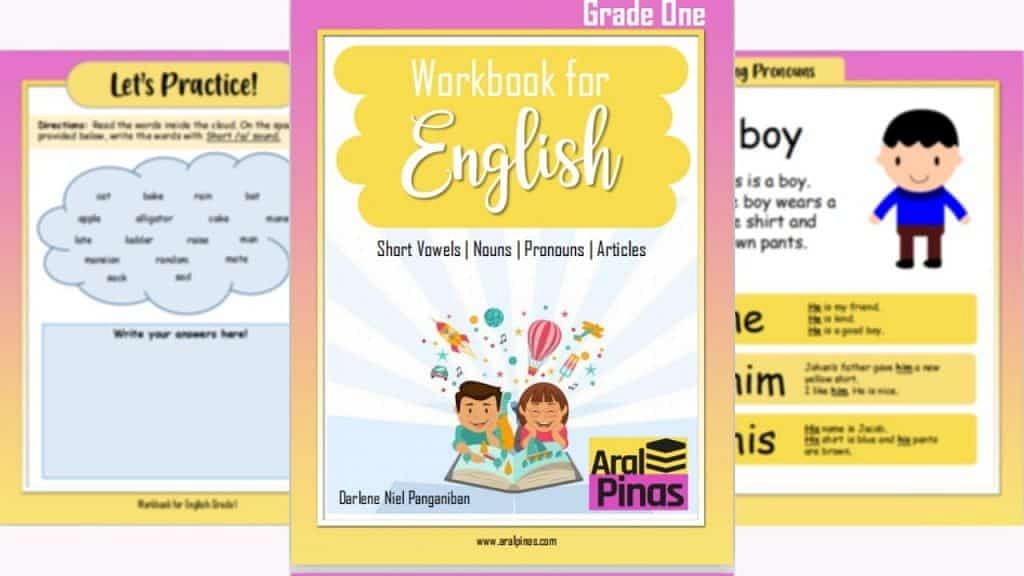 Below is the course outline and an email form where you can type your email to receive our free workbook straight to your email. We only ask that you share this post to your friends who might need this also.
"Once you have read a book you care about, some part of it is always with you." – Louis L'Amour
Course Outline:
Lesson 1
Recognizing the Short a and e Sounds
Recognizing Nouns

Lesson 2
Recognizing the Short i Sounds
Recognizing Singular and Plural Nouns

Lesson 3
Recognizing the Short o and u
Sounds Recognizing Common and Proper Nouns

Lesson 4
Pronouncing words with the Sounds of b and p
Using Pronouns
Lesson 5
Pronouncing words with the Sounds of d and t
Using A and An
GRADE 1 WORKBOOK FOR ENGLISH:
Preview:
Note: If you encounter a problem downloading the file, you can refresh the page or restart the browser. If it won't work then you can comment down below or message us on our Facebook page @aralpinas
ALTERNATIVE LINK: DOWNLOAD
MORE DOWNLOADS:
SIGN UP TO DEPED TAMBAYAN NEWSLETTER
Join our Facebook Community and meet with fellow educators. Share and download teaching materials. Get important updates and read inspiring stories.
RECOMMENDED