Vice President of the Republic of the Philippines and Secretary of Education, Sara Z. Duterte, revealed the seven priority points for the intervention of the Department of Education (DepEd) in support of its MATATAG Agenda during the Partners Convergence held on Thursday at the National Museum of Natural History, Luneta Park.
During her speech, Vice President and Secretary Duterte highlighted the significance of building robust collaborations that involve all relevant entities, such as the private sector, civil society, and local communities. This is crucial in realizing the Sustainable Development Goals in basic education.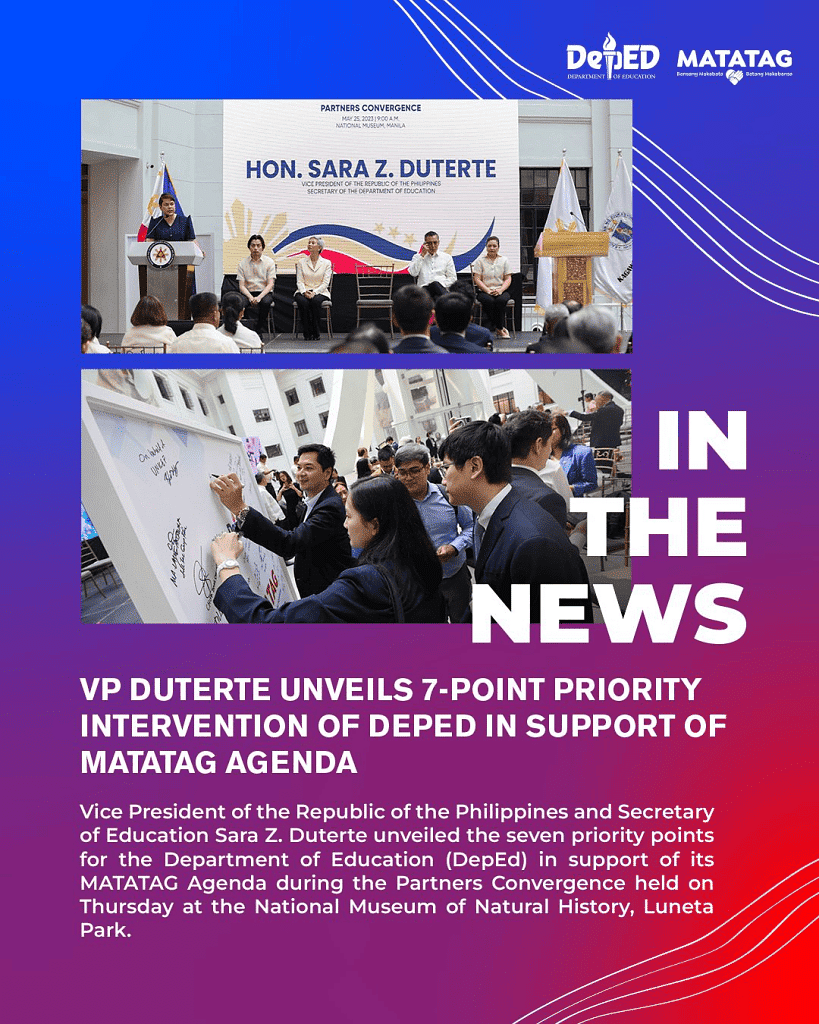 The Partners Convergence brought together education partners, stakeholders, representatives from embassies, and local government units to align existing and future projects with the MATATAG Agenda through engagements with Official Development Assistance (ODA) and local partners.
Vice President Sara highlighted the priority interventions in each strand of the MATATAG Agenda. The Finance strand aims to capacitate employees on loan management systems and promote financial literacy among DepEd personnel and learners. The School Infrastructure and Facilities strand will focus on constructing and rehabilitating classrooms, building disaster-resilient schools, retrofitting classrooms, and providing electrification and connectivity programs.
The Administration strand plans to digitize forms, enhance existing systems, and provide parametric and indemnity insurance for public schools. The Curriculum and Teaching strand aims to strengthen literacy and numeracy programs, review Mother Tongue-Based Multilingual Education, digitize national assessments, and enhance inclusive education programs and teaching approaches.
The Human Resources and Organizational Development strand will prioritize quality assurance effectiveness, upscaling the National Educators' Academy of the Philippines, and knowledge sharing from partners. The Operations strand intends to provide mobile medical and dental clinics, enhance school-based feeding programs, implement learner rights and protection mechanisms, offer mental health programs, develop learner and youth programs, and promote the farm-to-table nutrition project.
Additionally, the Procurement strand aims to improve procurement processes through capacity building and digitalization.
The event also served as an opportunity for Secretary Duterte to express gratitude and recognition for the unwavering commitment of local government units and Official Development Assistance (ODA) partners. They reaffirmed their dedication by signing the "MATATAG Partner Ako" commitment wall.
The education secretary acknowledged the support and commitment of Manila City Mayor Maria Sheilah Honorado "Honey" Lacuna-Pangan, US Ambassador to the Philippines MaryKay L. Carlson, Aboitiz Foundation President and CEO Sabin M. Aboitiz, and Governor Dakila Carlo E. Cua, who all expressed their support for the Department's endeavors.
The MATATAG Agenda aims to provide a quality education that equips students with essential skills, knowledge, and values to thrive in an ever-evolving world. Through collaboration, learning, and growth, Vice President Sara Z. Duterte and the Department of Education aim to create a better world through education, transforming lives and communities.
Read more: PRC Announces face-to-face oathtaking of licensed professional teachers
Read more: The Dangers of Tolerating Your Kids' Mistakes: A Parent's Guide
SIGN UP TO DEPED TAMBAYAN NEWSLETTER
Join our Facebook Community and meet with fellow educators. Share and download teaching materials. Get important updates and read inspiring stories.
RECOMMENDED